http://buzzardtracks.blogspot.com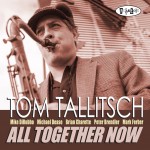 Tom Tallitsch. All Together Now.
Posi-Tone Records, 2015.  Tom Tallitsch: http://www.tomtallitsch.com/
It must be the season for good jazz releases. Tom Tallitsch's last CD, Ride, was reviewed here about a year ago, and his releases seem to be coming at a faster rate than ever.  His third album for Posi-Tone brings back two of his bandmates from last year, bassist Peter Brendler and trombonist Michael Dease, replaces the pianist and drummer, and adds an alto sax player Mike DiRubbo for some higher notes. The result is a somewhat richer and fuller sound. Nine of the eleven tunes are originals, with a Zappa composition and one by Robbie Robertson rounding out the set.
Tallitsch covers some of the same ground as he did on the last release, but here he emphasizes gospel and blues. Case in point, "The Night They Drove Old Dixie Down," a classic piece of Americana in the hands of The Band, becomes a gospel showpiece in the hands of this band.  While the gospel influence was always there, Tallitsch really brings it to the front, even while sticking close to the melody. The style is revisited in the closing track, "Arches," one of his own tunes. Tallitsch plays it light, sweet, and slow, with some lovely solo work by several of the band members. The tune has the same sad, downward drift as the "Midnight Cowboy Theme" (it took me a few minutes to recall what this reminded me of).  On the blues side, "Uncle Remus" takes us furthest into that style, with some delicious keyboard work by Brian Charette, while the Zappa/Duke song "Greasy Over Easy" delivers in similar fashion, with a bit of a soul twist.
Elsewhere, we hear a lot of fine tunes, some faster, some slower, each creating its own space and delivering a different view of the group's work. "Passages," the opener, gives everybody a quick solo in fast tempo, as if it were an overture to the rest of the album. "Slippery Rock" takes a slower pace with Tallitsch and DiRubbo trading off on their saxes.  "Border Crossing" lets the group sound nearly like a big band with saxes and trombone all playing in unison, and "Curmudgeon" does the same, but gives Michael Dease a nice chance to be featured with some soulful trombone. "Medicine Man" sounds like Paul Desmond is nearby. Nearly everywhere Brian Charette adds to the mix or provides short pithy solos that sometimes quote familiar tunes. Underneath it all is the fine rhythm section of Brendler and Ferber, anchoring the group strongly, but never ostentatiously so, and occasionally surfacing for a short feature. Sometimes I mention a favorite tune, but here I can't. They're all good.
All Together Now gives Tallitsch the opportunity to show off his arranging skills and melodic sensibilities, which are considerable. All of the musicians do an excellent job individually, but the great thing about this album is the ensemble feel.  While everyone gets their chances to solo, just as often two instruments are paired up, and the interplay between them creates fascinating textures throughout. Nobody dominates, and as a result, the title is an apt description of what goes on here. The only thing missing is the Beatles song.
Personnel:  Tom Tallitsch (tenor sax), Mike DiRubbo (alto sax), Michael Dease (trombone), Brian Charette (piano, organ), Peter Brendler (bass), Mark Ferber (drums).
Tracks: Passages, The Night They Drove Old Dixie Down, Slippery Rock, Big Sky, Border Crossing, Curmudgeon, Uncle Remus, Medicine Man, Greasy Over Easy, Dunes, Arches.
Jeff Wanser