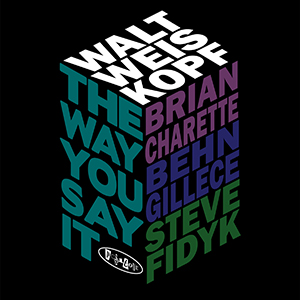 One of the musical highlights in a Wisconsin summer full of them is the scheduled appearance of Steely Dan and Steve Winwood at the BMO Harris Pavilion in Milwaukee on July 16th.
The Inquisition suspects that there are many upsides to being Donald Fagen and Walter Becker; one is that after four decades of critical acclaim and multi-platinum albums including Grammy Best Album-winning "Two Against Nature," the duo is positioned to record and tour with their choice of the best players in the world.
Exhibit A is tenor saxophonist Walt Weiskopf, whose new album, "The Way You Say It," is receiving outstanding reviews.
Fox Cities jazz aficionados may recall Weiskopf from his outstanding contributions to former Big Band Reunion leader and Lawrence University professor Bob Levy's breakthrough album, "Crossover," on Stellar Sound Productions that also included John Harmon, Janet Planet, Tom Washatka, Dane Richeson, Ken Schaphorst and Matt Turner. Weiskopf played on four cuts and contributed his own original composition, "Southwest Blues."
"Walt is a great player who has been influenced by all the great ones," Levy said. "It was a real kick playing with him. He's very easy-going and very giving. There is no ego with Walt. He's got a lot of confidence but without ego."
Weiskopf and his tenor sax will take the stage with Steely Dan in Milwaukee. His technical prowess and his team-play mindset have made him an excellent addition to the band for the last 15 years.
"In 2002 I got a call for horn section dates for (Steely Dan's album) "Everything Must Go" and subsequently was called to play on the title tune," Weiskopf recalls. "The following January, Walter (Becker) called me and asked me to tour with the band that year and of course I said I would be thrilled to do it. Since the '03 tour, we've toured in '06, '07, '08, '09, '11, '13, '14, and '15 as well as this year. In 2010 and '12, I toured with The Dukes of September; a band led by Donald with Boz Scaggs and Michael McDonald."
He was also a key contributor to Fagen's solo albums, "Morph The Cat," and "Sunken Condos."
"I love being a part of a great band and Steely Dan is certainly all of that," Weiskopf said. "Playing with this band since 2003 has been a great pleasure and continues to be a hugely artistic, gratifying and creative challenge."
Weiskopf has sixteen albums of his own to his credit; "The Way You Say It" is his third release for Posi-Tone Records, following the critically-acclaimed "Overdrive" (2014) and "Open Road" (2015). Its twelve cuts include nine Weiskopf originals including the title tune. It features organist Brian Charette, Behn Gillece playing vibraphone and drummer Steve Fidyk, all of whom are beneficiaries of Weiskopf's generosity and respond with inspired playing and solos that are superb complements to his virtuosity and command of his instrument.
The title composition is the closing track on the album. Gillece sets the stage for some of Weiskopf's most heart-felt and melodic playing augmented by Charette's understated support. Weiskopf did not have to go very far for inspiration.
"The Way You Say It," is dedicated to my wife, Marcie," he said. "She has the most pleasing, inviting, tuneful speaking voice I've ever heard and it always reminds that it's not what you play, it's how you play it and it's not what you say, it's the way that you say it."
The album opens with Weiskopf's "Coffee and Scones," an up-tempo valentine to "two of my favorite things," that showcases each musician's talents in solos that are energetic and melodic, but never forced and fit easily into the groove. The subject matter is not just inspirational but practical.
"I like a dark roast red eye and a blueberry scone – the blueberry gives me the illusion that I am eating healthy – followed by 90 minutes of practicing my horn on a caffeine high."
Another Weiskopf original "Separation," follows, and the composer bookends Charette's precise yet beautifully understated solo with some of his best and most inventive playing.
"For me personally, being on the road apart from the one you love for long periods of time is the most challenging thing about being a musician," Weiskopf said. "I am so lucky the beautiful woman I married understands my career as a musician."
On the flip side, Weiskopf's musical wanderings have taken him to some fabulous places.
"Inntoene, is a tip-of-the-hat to one of the best international jazz festivals anywhere," he said. "I can't wait to get back to the beautiful town of Diersbach, Austria, and play with these great musicians."
The band blends seamlessly at the outset of "Dreamlining," an examination of "the best kind of dreaming – floating effortlessly and swinging from the clouds – the kind of dream that you wish would last longer than it usually does" before Weiskopf steps out and explores the lower registers of his tenor and Charette eases into yet another ear-pleasing solo.
Weiskopf's technical mastery is off and running with both speed and precision on "Blues Combination," inspired by John Coltrane's "Locomotion." Intrigued by Ray Charles's take on the tune, Weiskopf grooves effortlessly on "Candy."
"I've wanted to try this one for years and finally worked up my nerve," Weiskopf said. "It was nice to have the beauty of Brian's organ to lean on throughout this one. A quick, down and dirty vision in D minor. 'Envisioned' follows. I love hearing Behn bang those bars on the shout chorus. When Charette solos, you can almost see his fingers flying up and down the keyboard."
Homesickness for the cloudy skies of Syracuse, NY, inspired "Invisible Sun," which is followed by "Manny Boy."
"Never would I have believed a year ago that I could feel so much love for a dog," Weiskopf said. "A year ago, Marcie and I rescued Manny. He has shown me a whole new side of myself."
Weiskopf et al serve up creative takes on Weather Report's "Scarlett Woman," and Charlie Parker's "Segment," before concluding with "The Way You Say It."
"Segment, is the currently the Charlie Parker tune that I am most obsessed with and I hope Bird would've have understood my compulsion to modulate up a half-step," he said. "I love Weather Report and 'Scarlett Woman' in particular. It turned out to be a great vehicle for Steve to showcase his grooviness."
George Halas – SCENE