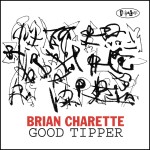 Brian Charette – Good Tipper – Posi-Tone PR8128, 58:23 ****:
(Brian Charette – B-3 organ; Avi Rothbard – guitar; Jordan Young – drums; Yotam Silberstein –  guitar (2, 4, 7, 9); Mark Ferber – drums (2, 4, 7, 9); Joe Sucato – saxophone (10))
Brian Charette is one of the rising Hammond B-3 jazz stars. He is in demand as a sideman, and has worked with Lou Donaldson, Chaka Khan and Joni Mitchell. Additionally, he has graced jazz recordings with the likes of Bucky Pizzarelli, Mike DiRubbo and Tony Desare, while establishing himself as a rising star on the New York jazz scene. He studied classical music and writes master classes for Keyboard  Magazine. Now with Posi-tone Records, he has released two recordings in the last year, Square Oneand his current album, Good Tipper.
Good Tipper is an organ trio project with a twist. There are two separate ensembles, although the Avi Rothbard (guitar)/ Jordan Young group plays on eight of the twelve tracks. The title cut opens the album with an up tempo blues of a Charette original. Rothbard kicks it off on lead before Charette takes over at :45. His groove vibe is prevalent and he builds some rapid fire solos into the jam. Jordan Young contributes a nifty drum fill. All of this, in three-and-a-half minutes! He aligns with the Yotam Silberstein/guitar and Mark Ferber/drums configuration on the always spooky Rid Argent classic, "Time Of The Season". Rod Argent has always injected jazziness into his pop hits, and Charette's style is a perfect fit. The tonality has a Sixties feel to it, and the ensemble play is succinct. Many jazz players have delved into Richard Rodgers material. Charette has chosen the often-covered, "Spring Is Here". He infuses jauntiness into the arrangement and divides the solos with Rothbard, who showcases his fluidity.
There are many interesting and "fun" selections of covers. "Cuando Cuando Cuando", the loopy Italian pop song (recorded by many early sixties pop singers) is a surprising treat. Charette maintains the bossa nova, melodic cadence, but delivers some percolating, jazzy runs. It seems like 1962 again. Another unexpected choice is John Barry's "You Only Live Twice" (from the James Bond movie of that name). Again, the familiarity of the Nancy Sinatra version is re-created with counter-leads by Charette and Silberstein. This is the first of three pop songs, and two Jimmy Webb tunes follow. "Wichita Lineman" was a career defining moment for Glen Campbell. Charette is able to summon the winsome melancholy of the vocals in his play. There is a subtle gospel dynamic to the organ. Silberstein's sharp notation and improvisation lend a Wes Montgomery-like resonance. On "Up Up And Away" the structure emphasizes the basic hooks of the tune (including the last refrain) and its carefree flow. Webb's songbook is intricate and well-crafted and receives fresh treatment in the hands of Charette.
There are five original numbers on Good Tipper. "Standing Still" utilizes a swing waltz-time in straight ahead trio play. On a change of pace, "To Live Your Life" is atmospheric with some complex chord progressions. "One and Now" is a lively samba number that expands to quartet with the addition of saxophonist Joe Sucato. Charette unleashes a spirited organ solo before handing it over to Sucato and Rothbard. It is old school bop and it works. The finale is a lively rendition of a classic Joe Henderson opus, "The Kicker", which gives drummer Jordan Young a well-deserved solo.
Regardless of the stylistic variations, Good Tipper is good jazz!
TrackList: Good Tipper; Time Of The Season; Spring Is Here; Cuando Cuando Cuando; Another Quarter; Standing Still; You Only Live Twice; Wichita Lineman; Up Up And Away; One And Nine; To Live In Your Life; The Kicker
–Robbie Gerson