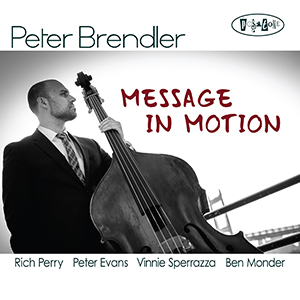 Message In Motion is a recording that can be gainfully approached from a number of angles. You can choose to play it in a single sitting from start to finish, taking in an array of moods evoked by bassist Peter Brendler's seven compositions and a band worthy of his exemplary skills as a writer. (The record also includes selections penned by Duke Ellington, Elliott Smith, and Alice Coltrane.)
Equally satisfying is the practice of detaching the compositions from the improvisations that follow, enabling one to focus on the care Brendler takes in crafting melodies, appreciate the shapes and contours of individual songs, as well as his shrewd employment of different configurations of a five-piece group. It's easy to become fixated on each of his works, and after a while, despite their differences, they loosely cohere into some sort of aggregate. "Splayed" opens in a wistful manner that includes brief silences, and quickly turns harder and somewhat sinister. "Stunts and Twists" is a haunting, quasi-ballad that evolves in a long, restless sweep. Bearing the influence of the early work of Ornette Coleman, the densely swinging "Very Light and Very Sweet" seems to feed on itself. The deliberately paced "Gimmie The Numbers" makes bedfellows of elements ranging from gospel to gutbucket. Fueled by a firestorm of distorted guitar noise and punchy, drum dominated time, "Lucky In Astoria" sounds like a waltz on steroids.
Another rewarding course is concentrating on the work of each of the primary soloists—tenor saxophonist Rich Perry, trumpeter Peter Evans, guitarist Ben Monder, and Brendler—and making note of the ways in which the bassist and drummer Vinnie Sperrazza support and interact with them. As his tone declares a slightly sour disposition, Perry's "Didn't Do Nothing" solo sounds as if he's pushing away some sort of obstacle without using a whole lot of force or emphasis, as if the effort is distasteful or futile to begin with. In general, his improvising is slippery, evasive, and—miraculously—right down the center of the music's core. Throughout Evans' wildly ambitious improvisations on "Splayed," "Stunts and Twists," and "Didn't Do Nothing," each note seems to be gobbled up by the next one, offering the impression of something being torn down and reassembled in a different form, all in one maniacal, continuous motion. Taking his cue from the song's melody, during "Gimmie The Numbers," Monder begins in a simple, direct manner, and eventually turns prickly, making darting leaps across the beat. During the incendiary "Lucky In Astoria," his overwrought guitar and Perry's tenor extemporize at the same time, as if they're both trying to force their way out of a confined space by vastly different means.
It's entirely possible that there's no end to the discoveries and pleasures engendered by
Message In Motion. The music always encourages yet another listen. Highly recommended.
DAVID A. ORTHMANN  –  All About Jazz