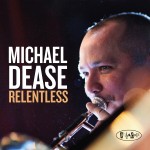 If slow and steady does indeed win the race then watch out for Michael Dease as he is Relentless!
I have to admit if I hear one more big band release this year then you can look for me at Home Depot in the length of rope and rickety stool department. The format is on the upswing yet the preconceived notion of predictability often has critics reviewing the release before they actually "listen." Michael Dease makes his Posi-Tone debut with an all star big band that is straight ahead and swinging yet refreshingly original and inventive. When you have a large ensemble cast that includes such artists as Tim Green, Etienne Charles, Tom "Bones" Malone and Ulysses Owens Jr. then the bar has just been raised.
While Dease contributes four solid originals, the covers are deep catalog and slightly eclectic given the nature of the format. The Randy Brecker tune "Roppongi" includes rising star saxophonist Adam Rongo and guitarist Andrew Swift. The fabulous Wycliffe Gordon makes a cameo on "Autumn Leaves" and contributes some vocal flavor to the Dizzy Gillespie classic "Two Bass Hit." The reharm on "Autumn Leaves" may be one of the better arrangements you might hear. "Two Bass Hit" is a foot to the floor battle with Dease, Benny Benack III, and Wycliffe Gordon. The winner? Too close to call! The Dease originals "Force" and "Webster Grooves" pop with individuality while never losing that accessible melodic bass line that makes Relentless such a solid outing. "Force" smolders with a more contemporary vibe while "Webster Grooves" goes full on hard bop.
This is a varied and slightly eclectic menu and that may be the key to success. The sound is the traditional straight ahead swing associated with the format and that is fine. The big band musical wheel does not need to be reinvented with arrangements this tight and a band this hot.
Simple as that.