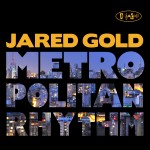 Jared Gold remains one of the most dependably creative artists in the Posi-Tone stable. He's delivered an album a year for that label since arriving with Solids & Stripes (Posi-Tone, 2008), a date that, in many respects, set the tone for the other trio and quartet sessions that would follow. Here, on his eighth release for that imprint, Gold delivers a well-balanced set with his working trio—a group that features guitar veteran Dave Stryker and rising star drummer Kush Abadey .
This album's title speaks to the heartbeat and buzz of city life—something that's complex and not so easy to capture in music. With that in mind, Gold and company explore the metropolitan pulse, energy, and vibe in different manners; they don't just focus on mile-a-minute, highly charged songs. The perfect example of this can be seen and felt with the back-to-back placement of "Homenagem" and "Risco"—two songs which look at two different sides of Brazilian music. The former is built on buoyancy and verve, the latter on unostentatious sway. Right there and then, Gold, Stryker, and Abadey make it clear that city life isn't so simple or uniform in its unfolding.
Having said all of that, it should still be noted that these three know how to cook. Their energized take on Stryker's "As Is" and their trip through Joe Henderson's "Granted"—an adrenalized thrill ride—makes that clear. Elsewhere, they turn in other directions. "God Has Smiled On Me" starts in hymn-like fashion before the band catches the spirit, "Maybe I'm Amazed" is reborn as a groove-friendly number, and Thelonious Monk's "Let's Call This" becomes a more rhythmically fluid and less idiosyncratic vehicle in the hands of this trio.
With Metropolitan Rhythm, Gold manages to paint a multi-dimensional picture of urban life that finds balance between drive and restraint, power and finesse, and tradition and innovation.