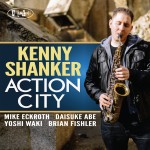 Saxophonist Kenny Shanker was eight years post-graduation before recording his debut album, Steppin' Up, which took another two years to get its 2011 release on Posi-tone records. So admirers of the New York based musician could be forgiven for not expecting album number two quite so soon. But here it is,Action City: released just 17 months after it was recorded and readily fulfilling the promise of the debut.
Just what kind of action does Shanker find in Action City? It's varied. "Times Square" is cool, hip, confident: action with style, reflected in Shanker's equally cool alto. The gently-swinging "Another Morning"—the band in a relaxed and relaxing groove—might just represent the low-key, coffee and orange juice, action that results from too much excitement the night before. "Midnight" is in a similarly gentle vein, as is the sweet "Riverbank At Dawn," while the action on "The Tortoise And The Hare" is race-track tense, the up-tempo sections showcasing Shanker and pianist Mike Eckroth's talent at fleet-fingered be-bop.
The quintet's remaining members—including Eckroth, bassist Yoshi Waki and drummerBrian Fishler from Steppin' Up—are solidly in tune with Shanker's playing and writing. Eckroth is almost as prominent as Shanker in terms of lead roles—his solos on "Shadow Dance" and "Midnight" are fine examples of fluid, melodic, playing. Daisuke Abe's guitar is relatively under-used, but always pertinent: it would have been great to hear more of this considered player. 
Shanker's guest musicians add further variation without ever swamping the sound of the core quintet. 
Matt Blostein
's glockenspiel gives a twinkle to the otherwise melancholy "Punch"—which is also enhanced by Waki's bass solo. Percussionist Daniel "Conga" Valdez gives "Marble Hill" a sassy bravado: Maximo Vasquez joins Fishler to give further drive to the rhythm of the graceful "Snow Paws."
The decision to fill the album with Shanker's original compositions, rather than mix in a few songbook standards, works well. He's a strong writer, the tunes are in the straight-ahead tradition but with a freshness and a contemporary edge. Action City moves things on from Shanker's debut, offering further proof of his development as an artist and writer. YouTube provides evidence of Shanker the vocalist too—something extra for album number three?
Track Listing: Times Square; Another Morning; Summer Siesta; Action City; Punch; Prelude; Shadow Dance; Midnight; Marble Hill; The Tortoise And The Hare; Riverbank At Dawn; Snow Paws.
Personnel: Kenny Shanker: alto saxophone; Mike Eckroth: piano; Daisuke Abe: guitar; Yoshi Waki: bass; Brian Fishler: drums; Peyman Samghabadi: trombone (1); Matt Blostein: glockenspiel (5); Daniel "Conga" Valdez: percussion (2, 3, 9, 11); Maximo Vasquez: percussion (3, 12).