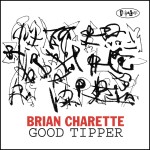 Brian Charette – Good Tipper
There's not enough 
great
 jazz coming out these days, but this little gem by jazz organist/keyboard player Brian Charette is a great find heading into the new year. You can expect an hour of quality instrumental jazz with Brian and a few talented friends.
We'll be featuring the title track, an original piece with Avi Rothbard on strings and Jordan Young on percussion. The three create a chemical explosion, an absolute blast of a listen. While they show off their chemistry, they'll also produce layers perfectly and truly give depth to the finished single.
It's quick to start with ease and grace, Avi's guitar dominating the entrance and setting the mood for everyone's fine talents. The song will keep its upbeat charisma, and sway the listener back and forth through the layers. This piece is ear candy for the jazz aficionado.
Most of the album contains original compositions, and those alone will showcase fine talents and ideas, but the jazz covers are pretty impressive too. The latest single, a cover of Zombies' Time of the Season, shows their ability to take a classic and spin it in a desirable web.
Streaming this gem is a little more difficult than I'd like it to be, but if you like either of the two released singles you'll undoubtedly enjoy the rest of the album just as much. If you can, you should give all 12 songs a listen on Spotify. Once you realize Charette's work is that of the finest quality, after you've decided you need to keep up with his future projects, you might want to consider tagging along for easy accessibility. You can find him at Facebook, Twitter, and Google+.