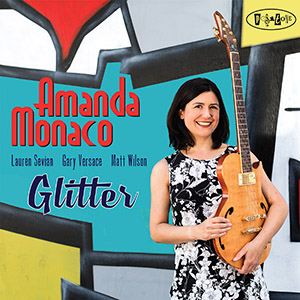 I first met guitarist, composer, and educator Amanda Monaco when she played in my hometown early in the new Millenium as a member of The Lascivious Biddies, a quartet that combined witty lyrics, strong vocals, and sharp musicianship. Turned out that Ms. Monaco has grown up in nearby Wallingford CT and had been schoolmates with tenor saxophonist Wayne Escoffery and pianist Noah Baerman. After leaving the Biddies in the mid-2000s, she has led several ensembles, released four albums as a leader, and built upon her teaching career.
"Glitter" (Posi-Tone Records) is her fifth release and finds her leading an ensemble that features Lauren Sevian (baritone saxophone), Gary Versace (organ), and Matt Wilson (drums). Just looking at the lineup and several of the song titles ("Gremlin From the Kremlin", "Mimosa Blues", "The Mean Reds"), one gets the feeling the listener is in for a good time.
And this truly is a good time. Opening with the swinging "Dry Clean Only", this band digs in and lets loose (yes, that's possible). Keeping the solos short, the song has an urgency that's hard to resist (plus, who swings harder than Matt Wilson?) Ms. Sevian is a versatile player whose solos really dance (as she does on "Mimosa Blues" and Tommy Flanagan's "Freight Trane").  Versace's roller-rink organ introduces "Gremlin…" (check out the martial drums as well) – the Eastern European-style melody and chord changes open up to playful solos sounding like a Lieber & Stoller tune from the late 1950s mixed with Micky Katz. "The Mean Reds" also could have come from the '50s, the organ splashes and "rocking" guitar riffs being pushed along by Wilson's splashy cymbals.
There is a serious side to this fun session.  "Theme For Ernie", a Fred Lacey composition recorded by John Coltrane in his Prestige Records, is a lovely ballad (amazing how Wilson can play so softly and still be integral to the music) with lovely solos from baritone, guitar, and organ (although Versace does dance through his chorus).
Best advice about "Glitter" is to enjoy the ride – no doubt that these four musicians are having a blast. This is the best and "loosest" I have heard Amanda Monaco play. That's not a slam against her earlier work. This program works so well because of the temperament and talent of the ensemble as well as how the composer understands how to let her music "breathe." Play it loud and relax.  Just maybe the world is not coming to an end.