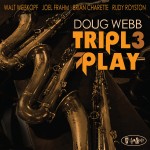 Is there a better way to say "Jazz" than a wailing saxophone? Tenor sax guy Doug Webb has found a one: three wailing saxophones, a killer organ guy and a dynamic, full-of-surprises, rhythmic wizard of a drummer, on Triple Play.

His fifth recording on Posi-Tone Records—a label that follows closely in the footsteps of the iconic Blue Note Records straight ahead sound of the 50s and 60s—Webb teams with fellow sax veterans Walt Weiskopf and Joel Frahm in a spirited front line if ever there was one. The program burns from beginning to end, starting with the leaders "Jones," rolling out with some high energy three horn harmony before shifting into a series of growling, honking, full flame solo slots, one saxophone after the other. Laying the solid, wall-of-sweet-breeze backdrop is Brian Charette on organ, and the ever rambunctious relative newcomer, drummer Rudy Royston.
John Coltrane's challenging "Giant Steps" is taken with the all-eight-cylinders-firing acceleration, sheets of sound saxophone notes all around, with Charette slipping in short organ bursts burning up from the off-kilter turbulence of Royston's drum work.
For those in the mood to kick back and soak up a rousing, mood-elevating blowing session, this is it. Never a dull moment, with first rate tunes from Frahm and Weiskopf, a Cole Porter cover, "I Concentrate On You," and soul saxophone legend Lou Donaldson's "Alligator Boogie," that gives organist Charette some space to blow the roof off the place. Nice!
— DAN MCCLENAGHAN