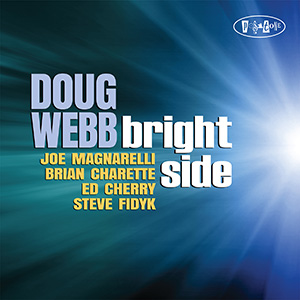 The title of Doug Webb's seventh Positone release sums up not only a personal outlook on his vocation, but the reality of it as well, given a career involving 30+ years as a professional musician. Bright Side teams the tenorist with some of the brightest of his immediate peers on the imprint with trumpeter Joe Magnarelli, organist Brian Charette and guitarist Ed Cherry each successful leaders in their own right. Drummer Steve Fidyk doesn't have a session under his auspices yet, but his calendar as a sideman remains packed with cherry-picked gigs.
As with earlier Webb dates the program draws liberally from a songbook of originals while threading in a handful of covers including the bossa nova "Bahia" and Oliver Nelson's hardbop workhorse "The Drive". Webb is a specialist at devising tight punchy heads that pack sizeable ensemble wallops while working flexibly as spring boards for economy-minded solos. "Society Al", a titular riff on a Dexter Gordon composition, features his horn initially in isolation before the band arrives to advance a rolling, organ-forward groove.
"Silver Lining" gives Charette the chance to show off his skill with building swirling, descending textures as Fidyk carves out a choppy beat beside him. Magnarelli sits out leaving Webb to ride the waves through a solo ripe with both velocity and spirited inflections. Credited to someone with the surname Eastlee, "Steak Sauce" shows off the quintet's shared facility with a boogaloo rhythm. Charette's bass lines ooze grease and the horns lock on some lean, but tasty unisons atop another porous series of patterns from Fidyk. Cherry leans back and concerns himself with comping inventively under the frontline extemporizations before moving stepping out for a supple say of his own.
"Melody for Margie" and "One for Hank" reference more important figures in Webb's personal history, the first at a ballad tempo that capitalize on Charette and Cherry's capabilities at shaping amorous support lines and Fidyk's gentle facility with brushes. The second personifies in sound a saxophonist answering to the surname Mobley, at least in general feel, as Webb glides through a set of cerulean-hued changes and into another plush-voiced solo that ranges purposefully through his horn's middle register. Charette and Cherry also get spotlights before a group exit and the album caps off with another groove workout in the accommodating guise of Webb's  "Funky Medina". With friends and continued opportunities like these it's easy to see how he entertains his abiding optimism.
Derek Taylor  –  Dusted Magazine