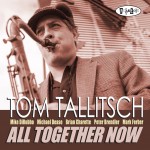 For Tom Tallitsch's latest album (released last month by Posi-Tone Records), the tenor ace assembles a stellar sextet for All Together Now. With a gathering of Tallitsch on tenor sax, Mike DiRubbo on alto, Michael Dease on trombone, Brian Charette on keyboards, Peter Brendler on bass and Mark Ferber on drums, Tallitsch went all out talent-wise, making this more appropriately "All Star Together Now."
His fast follow-up to 2014's Ride again tweaks the band construction from the prior record, with DiRubbo being the key addition. With three horns up front, Tallitsch gets to go more creative with the arrangements and add a forceful, layered swing to the sharp, expressive soloing that these guys were seemingly born to do.
Tallitsch puts this vast array of talent to work on the hot, hard bop originals like "Passages," Border Crossing" and "Medicine Man"; these are the kind of numbers that make Posi-Tone the closest thing we've got today to the classic Blue Note label. The three horn masters all burn on their solos for the opening "Passage,", and then Charette on piano caps it off with an inspired one of his own. On the second of this trio, Brendler's taut bass keeps it all locked down as DiRubbo delivers a towering cascade of notes, followed by Tallitsch's spiritual and spirited turn. Both of these guys also shimmer on "Medicine Man, " while Dease exploits his extended showcase on the shuffling mid-tempo "Curmudgeon."
All Together Now isn't some mere Art Blakey homage, though, even though it'd be a nice one. The Band's "The Night They Drove Old Dixie Down" is the recipient of that old gospel feel with Charette moving over to organ as Tallitsch administers just the right amount of soul and DiRubbo finishes what Tallitsch started. The chorus opens up like angels appearing out of the sky and the whole band ratchets up the passion to dramatic effect. Gospel is visited upon again for "Arches," resplendent but in a somber way. Charette is heard on electric piano for Frank Zappa and George Duke's "Uncle Remus," an overlooked cut from Zappa's hit album Apostrophe('), but Tallitsch recognized Zappa's underrated flair for a delicate melody and showed how at home this tunes feels in jazzier hands.
In a time when mainstream jazz is often thought of (and sometimes treated) as some stoic museum piece, Tom Tallitsch can always be counted on to counter that notion with a presentation of this idiom that's dynamic, majestic and yes, a boatload of fun. With All Together Now, the fun continues.