http://steptempest.blogspot.com/2014/07/large-bands-music-of-americas-world.html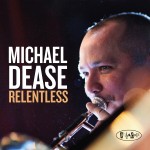 Georgia native Michael Deaseis a multi-instrumentalist known mostly for his work on trombone but is also proficient on trumpet and saxophone.  He has established himself as a producer and sideman, appearing on dozens of recordings and gigs ranging from Alicia Keys to Illinois Jacquet's Big Band to Neil Diamond to Maceo Parker.  There are a number of good reasons he's such a popular musician – he can play any and everything plus he knows his musical history.
"Relentless" (Posi-Tone Records) is his 6th release as a leader and first in front of a large ensemble. He has stocked the band with excellent players including saxophonists Tim Green, Todd Bashore and Diego Rivera, a trumpet section led by Seneca Black, Greg Gisbert and Etienne Charles and fellow 'bone players such as Tom Malone and Jeff Nelson.  The first-class rhythm section featuresMiki Hayama (piano), Linda Oh (bass) and Ulysses Owens Jr(drums).  Wycliffe Gordon makes 2 appearances on the program, joining the trombones for the slinky reading of "Autumn Leaves" (nice marimba work from Gwendolyn Burgett) and switching to slide trumpet for "Two Bass Hit."  On the latter track, Gordon, Dease and trumpeter Benny Benack III engage in some sprightly scat work while, on the former, there are a slew of short but strong solo before the leader sings a verse before the song closes out by returning to its opening "groove."
Then, there's "Webster Grooves", an uptempo Dease original (4 of the 10 tracks are penned by the leader) with the feel of a blues shuffle (a la Bill Doggett's "Honky Tonk") that morphs into a "swinging" piece with excellent section writing and more short but hardy solos.  Ms. Oh, who is rarely heard on record in a big-band setting, locks in with drummer Owens, keeping the band on an even keel.  The title track lives up to its name, pushed mightily by the fine work of Owens and the smart work of the reeds and brass. "The Takeover" takes off on the strength of Ms. Hayama's piano work but hits its stride when the sections play off each other, all of which leads to a fiery solo from Bashore plus a friendly "give-and-take" from trombonists Malone and Jerrick Matthews before Charles and Ms. Hayama take turns flying over the bass & drums.

Other highlights include a lovely reading of Jimmy Dorsey's "I'm Glad There Is You", a ballad that gives Dease the spotlight as both a soloist and arranger.  His dramatic arrangement for the bridge section is forceful.  Guitarist Andrew Swift electrifies the band on its heavy funk reading of "Roppongi", a tune Randy Brecker composed for the Brecker Brothers Band.  Ms. Oh's electric bass anchors the piece while Owens Jr's drums propels the funk forward.  Eric Alexander's "Little Lucas" is a medium-tempo ballad that opens with more fine work from Ms. Hayama before Dease gives the melody and harmonies to the sections.  Tim Green's alto solo has a bit of a rambunctious edge, setting the stage for a strong solo turn from the leader.
Michael Dease understands the power of a big band and, to his credit (and our pleasure), these songs are filled with excellent section writing.  There are certainly plenty of fine solos but what stands out on each subsequent listen are the strong arrangements and first-class work of the rhythm section. Both recording engineer John Davis(Bunker Studio in Brooklyn, NY) and mixing/mastering engineer Nick O'Toole (Woodland Studio, Lake Oswego, OR) make sure we hear all the musicians, especially the superior efforts of Ms. Oh, Ms, Hayama and Mr. Owens Jr.  "Relentless" is the proper name for this appealing CD and it's well-worth exploring.