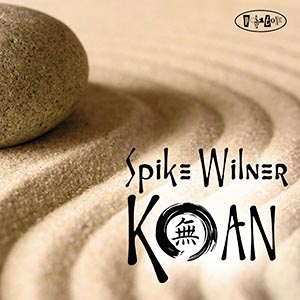 Man, those guys at Posi-Tone are on a roll! Spike Wilner's Koan is as engaging a piano trio CD as you'll hope to hear. I thought I was done with basic piano trios but Wilner is so inventive, his originals so, uh, original, his covers so well-picked and performed, that if you have to hear yet another piano trio, let it be he. Of course, bassist Tyler Mitchell and drummer Anthony Pinciotti are both lynchpins to the over-all ambiance. Impeccable and entertaining, this Koan (an ancient Zen Buddhist enigma wrapped in a riddle) is as enlightening as a koan can be.
Ellingtonia, it seems, will never go out of style: "Warm Valley" and "Gypsy Without A Song" go down smooth. The master's melodies seem to have had an effect on Wilner's own style of composition. "Iceberg Slim" starts the party. Not sure how this relates to the novelist of the same name as Slim [1918-1992] was a pimp who went on to become a literary icon of street thuggery, so much so that Ice-T and Ice Cube named themselves after him.
Sir Noel Coward [1899-1973] wrote "I'll See You Again" in 1929 and it's been covered by Bryan Ferry, Frank Sinatra and dozens of other singers. Divested of lyrical content, Wilner digs down deep into what was once a waltz to unearth its inherent melodic sweetness fit to swoon over.
Tadd Dameron's 1945 bebop-happy "Hot House" was originally taken from the harmonic structure of Cole Porter's "What Is This Thing Called Love" but was bopped up so crazy that older swing fans back in the day just couldn't swallow its changes. Still, when Bird and Diz got their hands on it, it became a standard. Wilner now joins a long list of interpreters including Chaka Khan, Larry Coryell and James Moody to make the song their own.
Put Koan on at your next party and watch the compliments fly
Mike Greenblatt  – Classicalite.com