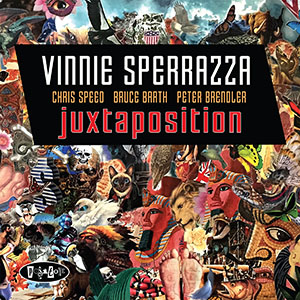 The most intriguing thing about Juxtaposition, Vinnie Sperrazza's recently released recording, is its loose grip on the jazz tradition. The disc's twelve tracks don't come with a set of standard, recognizable references. Not unlike many of today's leading young artists, Sperrazza has absorbed the lessons of the music's past, and is currently interested in doing things on his own terms instead of dwelling in the accomplishments of his elders. The other essential aspect of the record is it's overall disposition—the antithesis of the dense, loud, unyielding ethos that's increasingly common across the spectrum of jazz and improvised music. Sperrazza, the composer of nine of the tracks, pens refined, distinctive themes that sometimes hint of something left unsaid. A band consisting Sperrazza's drums, tenor saxophonist Chris Speed, pianist Bruce Barth, and bassist Peter Brendler produce an enclosed sound that often feels like a collection of interiors. (While listening to most of the tracks I frequently wondered if the music could survive the noisy distractions common to many live performance spaces.)
Speed's small-to-medium weight tone manages to sound both frail and decisive. It's an ideal voice for Sperrazza's designs. With few exceptions, Speed forsakes a lot of activity in favor of a bare minimum of notes, often containing little or no friction. Sometimes portions of his improvisations feel like the equivalent of a string of one-syllable words separated by brief pauses. In a stunning rendition of Leonard Bernstein's "Somewhere," he's hanging by a thread, projecting the uncertainty, nobility, and hope that the song deserves, while Barth's sparse, incisive support makes him seem a little less alone. During the medium tempo swing of Sperrazza's "Hellenized," a waltz that is a bit livelier than some of the cuts, Speed remains relatively unperturbed while the band moves around him. His role in the title track conveys a vague, dream-like state that eludes any semblance of certainty.
Barth always gives the impression of possessing an abundance of resources at his fingertips, but has no intention of unleashing them willy-nilly. Not unlike the music as a whole he doesn't sound indebted to any particular school of modern jazz. It's fun to listen to him throw a monkey wrench into carefully laid plans. On Sperrazza's "Chimes," for example, he's moving along in a meticulous, rather well mannered fashion, when a few muddied notes portend an adventurous detour. Barth's turn during the leader's "Solitary Consumer" balances authority and restraint as he simultaneously plays over and feeds off of Brendler and Sperrazza.
"Say The Secret Word" begins with laughter, the sounds of casually executed fragments—including a rare honk from Speed's tenor—with things gradually evolving into a slow blues. An effortless transition into a middling tempo leads to Speed and Barth conversing with one another, amiably coexisting in the same space. Although the track only lasts a couple of minutes, it's a lighthearted, agreeable way to end a first-rate recording.