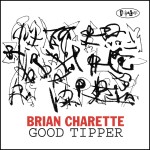 Barely six months after issuing his for album for Posi-Tone Records, B3 maestro Brian Charette returns with Good Tipper, another small-combo excursion expected out October 7, 2014 from Posi-Tone Records. Returning with Yotam Silberstein (guitar) and Mark Ferber (drums) for four tracks, Charette works with another guitar/drums combo of Avi Rothbard and Jordan Young for the remaining eight.
Charette doesn't slow down for this one, he hops to it right out the gate with his original, the title song, a lively tune with the leader playing bop sax lines on his B3. And on "Standing Still," another one of his compositions, he takes this waltz and manages to make it groove.
Rothbard does more than play guitar, contributing two tunes ("Another Quarter" and "One And Nine"). "Another Quarter" is a 60s-style boogaloo, where Charette's stinging tone for his solo is another instance of him doing a something a little unexpected. Joe Sucato guests on "One And Nine," a Brazilian shuffle, and his tenor sax portrays Stan Getz's own approach to this style. Rothbard's guitar is no slouch, either; his clean and supple lines makes a good better (check out Richard Rodgers' "Spring Is Here" for proof).
The covers, which comprise of more than half of the album, makes Charette's interpretive skills a major focus on this album, and interestingly, he draws heavily from the mid-to-late 60s pop canon. Yep, "Wichita Lineman" is in here, as is another Jimmy Webb classic, "Up Up and Away." On the former, the song begins to truly soar when Rothbard takes over in the last two and a half minutes, and Silberstein and Charette harmonize well together on the latter. The Zombies hit "Time Of The Season" was also a good choice because it's an organ-heavy Rod Argent song. Argent is nearly as key of the development or the organ in rock as Jimmy Smith in jazz, and Charette sets himself apart from most jazz organists by drawing from that important influence in equal measure.
Charette adds pizzazz to the Al Martino Brazilian ditty "Cuando Cuando Cuando," but Silverstein steals the show with his funky technique and comping that is very perceptive of what Charette is doing on organ. The hard swinging "The Kicker" makes it two albums in a row where Charette tips his hat to the later tenor sax giant Joe Henderson. On this one, the last track, Charette sets the place on fire with his right hand runs, and the proceedings are capped off by Young's hard driving drum solo.
Good Tipper is a return back to organ jazz basics for Brian Charette, who still can't help putting a refreshingly different spin on things. Nevertheless, he demonstrates here that he's got the fundamentals down, as he roots down for yet another satisfying outing.
– See more at: http://somethingelsereviews.com/2014/10/05/brian-charette-good-tipper-2014/#sthash.EGeEfurd.dpuf