Over at the office of Posi-Tone, the Los Angeles-based jazz label, 2011 is jokingly referred to as the "year of the altos." Below are reviews of three discs that have helped define the year for the label.  Not surprisingly, their similarities are not limited to the horn played by the leaders involved. As per the Posi-tone mandate, the CDs brim with modern mainstream jazz zeitgeist built on a post-bop foundation. The discs also adhere to some of Posi-Tone producer Marc Free's recommendations, offering a bounty of tunes under six minutes — all the better to be played on the radio — as well as a couple of covers of standards meant to open a window on the leader's inspirations and influences.
However, of the three discs below, I have a clear favourite, and I'll start by discussing it.
Maybe Steps (Posi-Tone)
Patrick Cornelius
This disc clearly strikes me as the most accomplished disc of Posi-Tone's batch. OnMaybe Steps, alto saxophonist Patrick Cornelius demonstrates striking poise, assurance and eloquence in his playing, and  his compositions are well-crafted lyrical statements, not simply content to be blowing vehicles.
The disc, the saxophonist's third under his own name, also rises to the top because Cornelius has called upon some of the jazz world's most exceptional young players for the recording. Pianist Gerald Clayton (who sounds impeccable throughout), guitarist Miles Okazaki, bassist Peter Slavov (heard in Ottawa in 2010 playing with Joe Lovano's UsFive group), and drummer Kendrick Scott really know how to make the music breathe and come alive as they provide supple, responsive, nuanced accompaniment. Even in the confines of a five-minute tune, Cornelius, Clayton and Okazaki can build compelling solo statements that grow and flourish. And of course, Cornelius and his bandmates can go big when the music calls for obvious shows of strength.
The discs get right down to business with the rollicking Christmas Gift, which has a nice modern edge to it as it alternates stretches of simmering and boiling. The track gives a clear indication of the disc's appealing mix of urbane sophistication and power. Shiver Song, heard in the excerpt below is a samba-style song with plenty of hustle and forward motion. Short as it is, the clip also gives you a sense of the tartness and focus of Cornelius' playing.
The disc hits its cool notes well too. Take for example, the loping title track that re-affirms the timeless pleasure of a two-feel groove gearing up to 4/4 swinging, the pretty Brother Gabriel (which echoes Peter Gabriel's Here Comes The Flood), Into the Stars, and the jaunty, lilting 5/4 tune A Day Like Any Other. After a fine solo introduction by Clayton, Into the Stars is a straight-eighths tune, both tender and tense, that showcases Okazaki's flowing melodies.
Bella's Dreaming, inspired by Cornelius' young daughter, is a short but meaningful exercise in crescendo. With the bolero-style Le Rendez-vous Final, the disc finds a strong, plaintive conclusion.
Posi-tone producer Marc Free likes a few standard or two thrown in on his CD, and Cornelius has obliged with some good ones. My Ship, a duet with pianist Asssen Doykin, is both personal and true to the song — not an easy balance to strike for younger jazz players. Conception is a fast romp that, like the title track, underscores the continued relevance of swinging.
For the next few days, Maybe Steps is streaming here, courtesy of Montreal's Nextbopping jazz advocates. See if you like it as much as I do.
New Directions (Posi-Tone)
Travis Sullivan
This quartet disc is the first small-ensemble outing in more than 10 years  from alto saxophonist Sullivan, who is better known as the leader of his Bjork-covering big band, Travis Sullivan's Bjorkestra. Front and centre on this CD of eight originals and two covers, Sullivan seems to take at least a few cues from Kenny Garrett in terms of his at times astringent sound and the kind of writing and modal soloing that he's going for.
Sullivan's joined by pianist Mike Eckroth (who's been doing some big league playing with John Scofield), bassist Marco Panascia and drummer Brian Fishler for a varied program than generally leans toward the straight-eighths, groovy side of things (the funky, riffy 7/4 tune Hidden Agenda, the 5/4 piece Magic Monday, the slinky tuneGeorgie, which opens up considerably on the version below).
Tune-wise, the best of this batch is Jamia's Dance, the CD's well-chosen opener, which is poppy but substantial.
On the less funky side of the ledger, Tuneology is a fast minor-key swinger, Leap of Faith is a nice 3/4 tune, and Autumn in NH makes a good bit of music out of very little — after a pretty piano intro by Eckroth and a short theme,  free, soundscape-oriented playing ensues.
The standard Spring Is Here receives a very straight reading. It has the right vibe to it, but Sullivan's playing is more stiff and brusque than I would like — he sounds considerably more free and expansive during his cadenza than when he's playing the tune proper.
With his cover of Everybody Wants to Rule the World, Sullivan lets loose his inner '80s child. He sets the Tears for Fears tune to a jazzier, waltzing groove, and reharmonizes it a bit. It's OK, but this '80s child likes it best when Fishler brings back the tune's original groove during the tune's coda.
Sullivan's disc is a solid one, with nicely proportioned post-bop performances and enough good writing and accomplished playing to make it distinctive.
Steppin' Up (Posi-Tone)
Kenny Shanker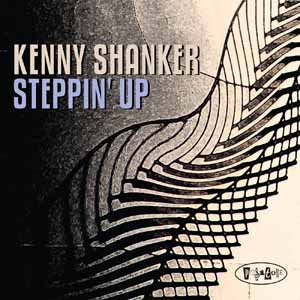 On his hard-hitting debut CD, alto saxophonist Kenny Shanker shows off a big, ripe  sound that brings Kenny Garrett and Jan Garbarek to my mind at times. That sound is consistently put into service during persuasive, committed solos — Shanker has a lot of bop under his fingers (and some Garrett-style lines too) and has no problems revving up to top gear when he improvises.
As a composer, Shanker creates direct, uncomplicated meat-and-potatoes fare — all the better for him to unleash strong stuff when he solos. A good chunk of Steppin' Upis  pop- and gospel-influenced (the down-home opener Winter Rain, Home Sweet Home, the pretty, quarter-notey ballad Sarah). Quirk is a groovy, Garrett-style tune. The rocking Rhapsody strives to be grand and, well, rhapsodic — I don't find it says that much to me, however.
On the swinging side of things, Fifth & Berry is a brisk, mostly minor blues, with guitarist Lage Lund contributing the first of three guest appearances. The guitarist also enlivens E.J., a charging tune, which features a swaggering half-time solo by pianist Art Hirahara before the music becomes more crowded. Lund returns onSaints, another multi-groove tune, and his playing on that track might be one of the disc's highlights — the beginning of the solo feels more patient than much of Steppin' Up.  Prowl is a jazz waltz that could have been better shaped, although Hirahara delivers a strong solo.
The disc closes with a rendition of Leonard Bernstein's Somewhere. Shanker sings the melody directly through his horn, and pianist Mike Eckroth expresses himself well.
Steppin' Up clearly conveys the heat and power of Shanker's music. Indeed, it feels to me like the recording, mixing and mastering meant to stress the punchiness of the proceedings — at the expense, I think, of more varied, nuanced expression. For comparison's sake, drummer Bryan Fishler comes off as more rigid and brash than he does on Sullivan's disc. Probably that's more a function of the recording, rather than what Fishler played.