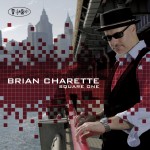 Trying to Keep Up with Organ Individualist Brian Charette
by 
delarue
Brian Charette is one of the world's most interesting and distinctive voices on the organ. Classically trained, he's made his name in jazz although his music is just as informed by classic 60s soul, funk and even reggae. He tours constantly and writes prolifically, and he's playing the album release for his latest one, Good Tipper; tonight and also tomorrow night, Oct 9 at Smalls at 10 PM; cover is $20 and includes a drink. Joining him for the album show are Yotam Silberstein on guitar and Mark Ferber – who really has a feel for this funky groove stuff – on drums.
The album BEFORE the latest one (yeah – the guy works fast) is a Posi-Tone release, streaming at Spotify, titled Square One. Charette has a devious sense of humor and that's apparent right from the jaunty strut of the opening track, Aaight!, which eventually squares itself more or less into a swinging shuffle. Charette and Silberstein move more frantically yet purposefully over Ferber's blistering yet nimble pulse on their take of Joe Henderson's If, followed by the vintage soul-infused Three for Martina, a metrically tricky ballad with organ and then guitar holding to a warmly reflective mood.
People on Trains follows a wryly lyrical narrative: the subway takes its time pulling out of the station and then scurries along, fueled by the guitar, then the process repeats itself. It isn't long before Charette throws in a New York-centric subway joke or two (the album cover pictures him chilling down under the Manhattan Bridge). Likewise, True Love kicks off slowly before Charette pulls it out of its balmy reverie, then Silberstein takes it back with a minimalist, practically Satie-esque solo. Then they get a swaying groove going with a warmly purposeful take of the Meters' classic Ease Back, Silberstein adding droll wah-wah licks.
Time Changes alludes to a famous Dave Brubeck album: it's a jazz waltz with summery soul riffage. A Fantasy does much the same with trickier rhythms and spiraling solos from guitar and drums against Charette's anthemic washes. Yei Fei is a blend of indie classical circularity and hints of airily eerie Jehan Alain church organ music: you might not think that something like this would work, but it does. Things You Don't Mean mixes up a strutting New Orleans funk groove with a hardbop guitar attack and then an absolutely creepy quote and variations from the Alain songbook: it's killing, Charette at his outside-the-box best. The album sprints to the finish line with Ten Bars for Eddie Harris, the most trad organ-lounge track here – but even that goes off the rails into a deliciously warped interlude. Who is the audience for this? People who like Dr. Lonnie Smith, jambands, funk and soul and sophisticated original jazz tunesmithing, which is ultimately what this is.