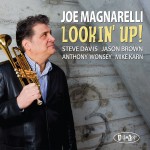 Joe Magnarelli, who grew up in Syracuse, New York and has resided in
New York City for over 25 years.He has played with some of the best in
the business including Jimmy Cobb, Lionel Hampton and Brother Jack
McDuff. He has led his own bands for twenty years and has released
nine recordings of his own as a leader.
His latest is "Lookin' Up!" on the Posi-Tone label. It's a straight ahead affair
featuring stellar playing by Magnarelli on trumpet and flugelhorn and a top notch
roster of players including Steve Davis on trombone, Anthony Wonsey on piano,
Mike Karn on bass and Jason Brown on drums. The playing throughout this new
session is outstanding.
Some of the highlights include the lead track "44" , a straight ahead bopper that
gets the set rolling. "Inner Beauty" is a lovely ballad that features Magnarelli's lyrical
and romantic side of his playing. Wonsey adds a lovely solo on piano. The John
Coltrane piece, "Miles' Mode" has Magnarelli on muted trumpet and Karn steps into
the spotlight soloing on bass. Magnarelli and Davis make a great team on the front
line. Davis' solo on "You Go To My Head" in particular is a real delight.
All in all it's a winning combination of talent backing Magnarelli on this new release
with fine performances throughout the entire ten tracks offered here. This record
should be getting major airplay at jazz radio around the country by the time you read
this. It's a delightful summertime treat for sure. For more info, you may visit
www.posi-tone.com