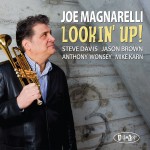 Joe Magnarelli is the perfect storm!
Respected educator, prolific composer and one of the most in demand players in mainstream jazz, Joe Magnarelli is a legitimate triple threat in improvisational music. Joined on the front line by critically acclaimed trombonist Steve Davis and you have a post bop release just screaming…literally.
What makes Lookin' Up! jump is that the old school style is fortified with a more contemporary pop of color to have this harmonic chameleon changing colors, meter, and swing almost at will. The rhythm section is A list and rounded off with Anthony Wonsey on piano, Mike Karn on bass and Jason Brown on drums.
Some consider Magnarelli strictly a ballad player and make no mistake his reharm of "Darn That Dream" is as good as it gets. The original "Inner Beauty" is an exquisite number that not only encapsulates the more evocative tonal quality of Magnarelli but a lyrical sense of purpose that is second to none. The burning swing of "Suddenly It's Spring" shows versatility while the muted work on "Blue Key" embraces a bossa nova rhythm set to a ballad melody. Not everyone does this folks. The meticulous attack on John Coltrane's "Miles Mode" is perhaps the highlight of the release as this trio take with only Brown and Karn highlights his old school ability with a new world charm.
Lookin' Up! works simply because this is not a rehash of old standards as Magnarelli contributes five originals. The success here is the lyrical vision and contemporary swing of a trumpet master that is deserving of far more ink then he has received in the past. Easily one of the two best trumpet releases I have heard this year.