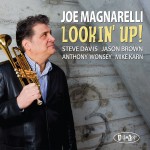 dusted.com
Publish or perish. It's an old maxim that applies equally well to academic and musical circles. Trumpeter Joe Magnarelli is well-versed in both realms of endeavor, starting his professional career three decades ago and eventually accepting adjunct teaching posts at both Julliard and Rutgers. He also routinely teaches master classes and clinics on the side. That kind of diversification is requisite when it comes to making ends meet as a jazz musician. Performance alone just doesn't cut it anymore. Productivity these days involves getting one's name and work out however possible.
Magnarelli's been keeping decent pace with the pressure to record. Lookin' Up! is his ninth date as a leader and follows a framework similar to his past works. Artful postbop is the order of the day with trombonist Steve Davis (another Positone regular) balancing the frontline on six cuts. Pianist Anthony Wonsey fronts the rhythm section with bassist Mike Karn and drummer Jason Brown also on board. The program is an even split between originals and standards with five of each. The first in the former category, "44" gets the date of to a less than auspicious start with a smooth unison horn statement over a fairly generic, Latin-lite rhythm. The later "Blue Key" suffers under a similar rhythmic yoke, but Magnarelli's muted leads bring it up a notch.
Things pick up considerably with "Third Set," a brisk bop blower that makes the most of the brass rapport between the leader and Davis. Wonsey's steady, sharp angled comping also earns points, particularly as backdrop for Magnarelli's lithe solo. "Inner Beauty," another original, gives Davis a breather and compels Brown to break out brushes as the band brings on a convincing balladic mood. Magnarelli's goes lush and pliable on flugelhorn, rolling out soft trills and legato slurs as Karn plucks a plump contrapuntal line that aligns with first trumpet and then piano. "Easy Transition" echoes the sort of writing Freddie Hubbard popularized during his Sixties tenure at Blue Note, with an agreeably dissonant piano prelude segueing into straightforward swing for the tune proper.
"Suddenly It's Spring" and "Miles' Mode" aren't exactly left field choices, but Magnarelli puts his stamp on both. The first bursts with effervescence thanks to a bustling rhythm, a nimble trumpet barrage, a knuckle-cracking statement by Wonsey, and fast-walking line by Karn that fold into a string of rapid chases. For the second, Magnarelli predictably affixes mute and puts the modal Milesean theme through a series of strong paces sans Wonsey's support. Karn makes the most of the pianist's absence, turning in his strongest improvisation of the date. The compensation for Wonsey comes with "Darn That Dream", a feature for just him and the leader again on flugelhorn in its opening minutes. This is music that invites straightforward appreciation and while Magnarelli stays well within his comfort zone throughout the results are agreeably on par with what's come prior under his name.
Derek Taylor