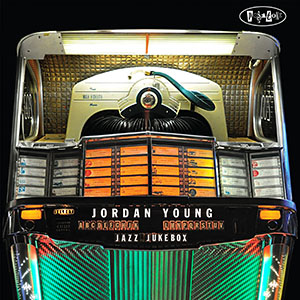 One of the strengths of Marc Free's Posi-Tone imprimatur is that it is responsible for introducing us to many great and upcoming jazz artists. Drummer Jordan Young is a Detroit native who has studied with some of the best of the modern-day masters and is making a name for himself in New York. His sophomore release for Posi-Tone, Jazz Jukebox, is a bristling thirteen-track collection that lives up to its name. There's a nice smattering of standards, pop ditties, and hard bop chestnuts, each clocking in between three and four minutes. While the brevity of the performances might be construed as a negative on first glance, it actually further ties in with the theme at hand. Think seven-inch 45s with a song on each side and you get the idea.
Two pieces with ties to the classic Blue Note era of the 60s kick off the date. "Son of Ice Bag" figured prominently on Lonnie Smith's Think album, while Larry Young's "Paris Eyes" is a gem from the organist's Into Somethin'. Both receive a contemporary update with Brian Charette's iconic organ tone at the forefront. On the bop front, Wayne Shorter's "E.S.P." gets a spirited romp bolstered by Young's dry cymbal beat. Guitarist Matt Chertkoff speaks volumes both in his solid comping and fleet-fingered solo work, his tone and attack sounding like a cross between Melvin Sparks and Pat Martino.
Charette keeps it lowdown and greasy on Jimmy Smith's "Eight Counts for Rita." By contrast, he calls up some vibrato and gets that classic ballad feel on "I Want a Little Girl." Young likes to play with various grooves and manages to put a different spin on such disparate material as the theme from "Love Boat" and Jim Croce's "Time in a Bottle." The former starts almost like a second line groove before morphing into a funk beat, while the latter number moves as a high octane waltz.
Tenor saxophonist Nick Hempton can be heard on four of the tracks and doesn't necessarily add or take anything away from the proceedings. What makes the trio cuts sparkle is the obvious connections these players have developed on the job. Jordan himself doesn't go out of his way to deliver flashy solos, but instead serves the music with his tasteful interjections. As just one example of many, listen to his tasty fills on the Charette's toe-tapping "Giant Deconstruction." Utilizing a vintage Gretsch kit, Young sounds like he's done his homework. Given even wider parameters, I would love to hear what other things he's got up his sleeves.