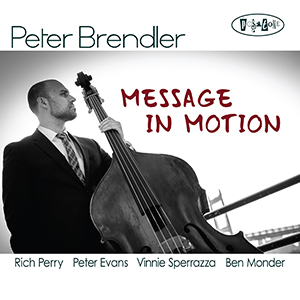 On his excellent debut outing for Positone, bassist Peter Brendler got arguably upstaged by the intrigue inherent to the frontline pairing of tenorist Rich Perry and trumpeter Peter Evans. With Message in Motion much of the novelty has worn off, replaced by a full embrace of the confidence that comes from two players who share an encyclopedic command of their respective instruments. Vinnie Sperrazza returns on drums and Brendler also taps guitarist Ben Monder to bolster the band to quintet size. Brendler leads with his usual blend of instrumental prowess and careful consideration toward crafting collaborative surroundings that stress his colleagues' strengths.
Eight originals add to a pair of covers for a solid near-hour of music starting with the hardbop-reminiscent "Splayed", a medium-tempo head-solos piece that allows Evans to uncork his horn. Perry's ensuing solo is more conventional by comparison, but stocked with register-ranging stream of phrases. Brendler holds the center with a plumply striding line. The ballad "Angelica" finds him in comparable functional form, plucking out an anchor around which the horns revolve before expanding into a resonant conversation with Sperrazza around a Latin rhythm. Monder debuts on the lushly configured "Stunts and Twists", glassy amplification giving his tasteful chording added reflective presence.
The lengthiest cut of the date, Alice Coltrane's "Ptah The El Daoud" gives Sperrazza a shot to shine on the martial motif that underscores the tune and Evans engages in an expressive Doppler growl. Perry's rubato extemporization cuts to the core of the mood-saturated theme with Brendler once again laying down a bold bass pulse as the tenorist heats up and treads close to the rarefied territory of the composer's spouse. Evans worries a phrase to the point of near-overkill before exploding it into a torrent of textured sound. Elliott Smith's "Easy Way Out" places the spotlight sharply on the leader and Sperrazza with Monder joining them mid-piece and further solidifying the melodic focus with a lattice of reverb-dipped single notes and glissandi.
Brendler's compositions carry the album to conclusion starting with aptly-named "Very Light and Very Sweet", an up-tempo lark that augments its brisk, effervescent structure with some weighty improvisation from Evans and Perry followed by rollicking exchanges with Sperrazza. "Gimmie the Numbers" brings a Mingus-style groove predicated by its title and propelled by Brendler's room-filling strolling line. Evans and Perry play the blues in their inimitable idiolects as Monder caulks the corners with luminous chords. "Lucky in Astoria" and "Stop Gap" arguably save the most unexpected Brendler for last with the first adopting rock inflections through Monder's distortion-laced riffing and second capping the session with sortie through open-ended funk. Converting this eclectic crew to a working band seems a foregone conclusion.
Derek Taylor – Dusted Magazine