http://dustedmagazine.tumblr.com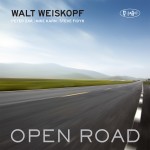 Times have long been tough for the Coltrane and Rollins-smitten tenorist. First there exists the sheer volume of peers to contend with, each jockeying for a share of a dwindling listenership that can easily eschew their facsimile sounds for the source. Then there's the challenge of adapting the masters' vocabularies in a manner that doesn't come off slavish or overly-derivative. With the deck stacked in such a way, it's a wonder more don't hang up their horns and opt for more uniformly lucrative or laudatory endeavors. In Walt Weiskopf's case, as with a select few others, there's really no alternative at all. It's a calling that can't be denied or subsumed, best dealt with by keeping as busy as possible in forwarding one's art no matter what criticisms arrive in opposition.
Open Road works as a clever visual analogy for the sort of mind set needed to consistently circumvent the strictures of the circumstances described. Weiskopf's been at it professionally for well over three decades, composing, gigging relentlessly as a sideman and leader, cutting records, teaching, publishing and accruing accolades and awards along the way. Seventeen albums later and Weiskopf's staying power is beyond reproach. Facets of Coltrane and Rollins reside audibly within an instrumental argot that is clearly indebted to the giants, but never fawningly rote.
The twelve pieces here combine to just shy of an hour and the relative brevity of each ensures that the band regularly breaks a sweat via variety and tempo variation. Premonition" starts off as a textbook postbop obstacle course, but pianist Peter Zak and bassist Mike Karn drop out two thirds into the piece leaving the leader and drummer Steve Fidyk to plow ahead at a propulsive clip. "Let's Spend the Day Together" has something of a Horace Silver cast about it in the dancing Latin rhythm undergirding Weiskopf's lead and the effervescent comping of Zak. The title track presses the collective accelerator, prompting Weiskopf to cruise expressively through a set of resilient changes with Zak's space-savvy attack leaving him plenty of room to move.
A rare departure from the Weiskopf pen, "Nancy (with the Laughing Face)" evinces the same playful bait and switch as the opener with tenor and piano relating the wistful theme, before the latter drops out and Karn steps up to offer the leader elastic support in his stead for a fleeting exchange. The driving "Gates of Madrid" carries the poignant urgency of a Sixties Joe Henderson or Booker Ervin number as Weiskopf invests his tone with a keening cry and Zak comps darkly at his side. Karn is more felt than heard, working with Fidyk to dial up the tension as Weiskopf ranges emotively to a tumult-stamped close. "Chronology" and "Electroshock" each contain a brisk assembly of sharp-edged, puzzle piece structures steeped in constructive colloquy. In pacing, placement and summary outcome the album works in the best episodic sense.
Derek Taylor