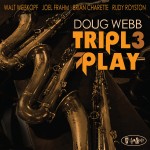 Doug Webb – Triple Play (Positone)
In the imaginary contest between coasts, Pacific will always register a distant second to Atlantic when it comes to jazz supremacy. Even during the Fifties at the height of West Coast Cool movement, New York City still held a lock as the music's epicenter. Left coaster Doug Webb has dealt with this disparity for much of his 30+ year career. A native of Los Angeles, he parlayed a relative paucity of jazz peers into lucrative assignments in film and television including, most recently, Law & Order and Family Guy. That flexibility of finances and schedule also allowed him to gig with many of the greats over the years including Horaces Silver and Tapscott, Freddie Hubbard and Billy Higgins.
Roughly five years ago the lure of session leadership led Webb to a contract with Positone. Triple Play, his fourth album for the label, deviates from its quartet-configured predecessors in presenting the tenorist in the company of two formidable contemporaries on his instrument, Walt Weiskopf and Joel Frahm. Organist Brian Charette and drummer Rudy Royston round out the ensemble and further the feeling of the sort of relaxed jam sessions that used to be the province of labels like Prestige and Verve. Favorable comparisons to classic conclaves like Booker Ervin/Sonny Stitt (Soul People) and Arnett Cobb/Eddie "Lockjaw" Davis (Blow Arnett, Blow) and aren't completely out of bounds.
Webb sequences originals by all three saxophonists with a handful of covers starting with an accelerated rendition of Coltrane's "Giant Steps". First up though, "Jones", a breezy blower by the leader based on standard changes which introduces each of the horns in succession over eddying up-tempo support by Charette and Royston before a truncated string of fours. Weiskopf's "Three's a Crowd" riffs humorously in both title and content on the comparatively close quarters of the frontline through a spate of staggered unisons. Royston keeps the pocket covered from behind his kit and Charette comps with salubrious legato swells into a compact solo of his own near the track's close. Keeping statements short and sweet is the overarching name of the game.
The succession of three-pronged theme statements can get a bit disorienting in terms of parsing who's doing what and where, but the horns are fairly easy to distinguish once they disentangle for individual solos. Densely packed rundowns of "The Way Things Are" (Weiskopf's spin on the standard of similar title) and "Avalon" are immediate cases in point with tightly twining heads spinning off into rapid-fire individual improvisations as the rhythm section sustains a precariously fast pace. Royston's breaks on the latter are dime-stoppingly precise and a sharp contrast to the funky syncopations he brings session's penultimate piece a steady burn turn on Lou Donaldson's "Alligator Boogaloo", which features Charette at his most eccentric and unfettered. If there's a quibble to be lodged at Webb's overall design it lies in the absence of ballads of slower tempos, but the unrelenting forward momentum reveals its own rewards.
Derek Taylor