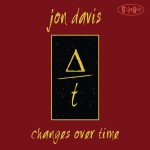 While there are no liner notes to accompany pianist Jon Davis' third date for the Posi-Tone imprint, there's a quote inside the package, attributed to author Anne Rice, that gets to the heart of the matter: "None of us really changes over time. We only become more fully what we are." So is personal evolution and growth an illusion? Is development a figment of the individual's imagination? Yes and no would be the correct answer(s). It really just comes down to perspective. Plenty of people would say that deepening one's very being is change. Others would argue that change and self-actualization are two very different things. This writer's take? It's a semantics-based argument that's not worth having in this particular instance. Better to focus on the music than wax philosophical.
Changes Over Time is a piano trio date that splits focus almost evenly between familiar covers and originals. That's not such a novel concept for Davis, given the fact that the same exact thing can be said for One Up Front (Posi-Tone, 2013) and Moving Right Along(Posi-Tone, 2015). But who gives a damn about novel concepts if the music sounds this good?! There's a level of comfort and sophistication in these performances that eludes most trios, and Davis, who already had it all together when he started his trio run with Posi-Tone, seems to be getting better and better with each date.

Here, Davis breaks in a new threesome on record, teaming up with bassist
Ugonna Okegwo
, who many may remember as the backbone in pianist 
Jacky Terrasson
's breakout trio, and drummer 
Jochen Rueckert
, a fluid and swinging presence who's worked with pianist 
Marc Copland
, guitarist 
Kurt Rosenwinkel
, saxophonist 
Melissa Aldana
, and plenty of other notables. It proves to be the best lineup that Davis has used to date. These three were made for each other, and that's obvious from the first notes of the first song on this album—a thoroughly enjoyable, laid-back version of "Soul Eyes" in seven. Davis sounds relaxed and confident while Rueckert and Okegwo set up a million dollar feel. The same can be said for any number of songs on this album—the angular, bluesy, odd-metered title track; The Beatles' "Yesterday," reharmonized to suit Davis' liking; the probing "It's For Free," a piece that finds the trio in drive-and-search mode; and a mellow, flowing take on
Stevie Wonder
's "My Cherie Amour" included. The list of strong performances goes on and on. Jon Davis' formula may not be changing from album to album, but his artistry is certainly ripening with each release.
Track Listing: Soul Eyes; Just For Fun; Las Olas; Changes Over Time; Yesterday; Klutz; Jazz Vampire; The Peacocks; It's For Free; My Cherie Amour; Slowly But Surely; Waltz For U.