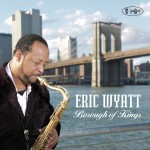 The borough of Kings (County)—a.k.a. Brooklyn, NY—has been saxophonist Eric Wyatt's home base from birth. It was there that he was exposed to jazz, met some of the legends of the music, and began to forge his own voice on saxophone. Here, on his fifth album to date, he delivers an intense brew that speaks volumes about what he's learned during his time in Brooklyn.
Wyatt is a no holds barred player with an edge to his work. Thankfully, he found some simpatico quartet mates that are willing and able to match his energy level on this outing. Pianist Benito Gonzalez delivers strong-hammered support, intriguing right hand lines tempered by a firm left hand, and spiky suggestions, playing the post-modern McCoy Tynerrole to Wyatt's John Coltrane. Drummer Shinnosuke Takahashi pummels his drums and pushes the band on most occasions, but he's able to adjust to climates that call for a little more restraint without much of a problem. Bassist Ameen Saleem, the final piece of the puzzle, serves as the connective tissue of the band. He bounds along beneath it all, playing around and playing off of Gonzalez and Takahashi. There are a few places where he almost gets muscled out of the aural picture by his heavy-hitting band mates, but it's usually not an issue.
Six of the eight tracks on Borough Of Kings are Wyatt originals, with Gonzalez's "Quest" and a slamming-turned-settled take on Coltrane's "Countdown" filling out the program. Wyatt's writing, no surprise, can occasionally fall into the "Coltrane-ish" category—note the dark-lined, bluesy "One For Hakim" and the spiritual introduction to the up-tempo title track—but he has other tricks up his sleeve. "The Peoples Champ" is a focused and fiery number that balances darkness and light; "Can He Come Out," which features trumpeterDuane Eubanks and has Kyle Poole taking over the drum chair, is pure funky fun; and everybody has a ball on the straightforward-and-swinging "What Would I Do Without You," which brings trombonist Clifton Anderson into the picture.
The aforementioned guests help to add another dimension to the music, but this remains Wyatt's show. His stentorian saxophone navigates the ship through some exciting twists and turns, making Borough Of Kings a high-energy thrill ride from start to finish.