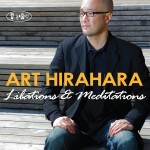 Piano isn't boring. Art Hirahara takes the organic foundation of subtle keys and harsh melodies, and blends them together with a modern jazz touch along with some friends. You'll be hearing Linda Oh on bass, John Davis on drums, and a lot of chemistry. There's only one song made publicly available from the album, and it's pretty great all on its own. It's a quick bebop based jam that only lasts a good two minutes; but it'll give you a clear view at what can be in store, if nothing more.
Give this one a listen, and then maybe repeat the listen. Let your ear wander around all the talents forming one single piece, and that's what you can expect from the album. You can almost hear the joy, you can understand the relationship they have with each other and their instruments. Now, this single is just misleading. It's the stuff just about everyone should enjoy, which means that this is just slightly more commercial than the rest of the album is intended to be. This isn't bad, it's just sad that this is the only song right now. Besides catching Art live, how will a true jazz aficionado understand the depth this man and his band can achieve? 
I guess that's where I come in. You should expect a slightly more erratic display of talent, some fluid progressions, and a lot of relatively smooth original work. Out of the 11 tracks, Only Child by Bill Evans and Karatachi No Hana (traditional Japanese song by Kosaku Yamada) are the only non-original compositions.
If you enjoy the talent, this album is most definitely worth checking out. If you enjoy the pace, I'd recommend staying away. This is best left for wandering ears in search of new jazz, and for piano jazz enthusiasts.