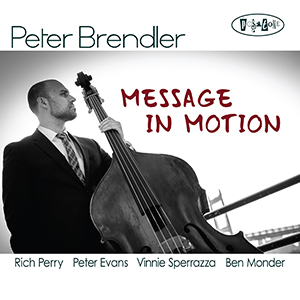 Another winner from the left coast's Posi-Tone: consider it a Message In Motion by Peter Brendler where six of the tracks feature no chords whatsoever as it's Brendler's bass augmented by Rich Perry's tenor sax, the trumpet of Peter Evans and Vinnie Sperazza with the type of kinetic drumming that continually moves the music forward.
Brendler wrote eight of 10 and his compositional style gives everyone ample room to move. His two covers are "Ptah The El Daoud" by pianist Alice Coltrane [1937-2007] who was even more way out half the time than her icon husband John, and a real oddball pick of "Easy Way Out" by singer/songwriter Elliott Smith [1969-2003].
Four tracks have guest guitarist Ben Monder to add a few chords and a few runs of his own. Monder's a monster. His Amorphae last year featured tracks with legendary drummer Paul Motian [1931-2011] from a scrapped 2010 duet project.
The sound is straight-ahead, exciting and constantly kinetic: it moves, man! Like the title implies, motion is inherent in these grooves. Continuing with the premise of his 2014 sophomore effort, Outside The Line, it expands the territory Brendler first sought out on his debut 2013 duo CD (The Angle Below, on Steeplechase Records) with guitarist John Abercrombie. Originally from Baltimore, Brendler graduated from Berklee in Boston before moving to New York City where he earned his Masters at the Manhattan School of Music.
Produced by Marc Free, engineered by Nick O'Toole, recorded at Acoustic in Brooklyn, mixed'n'mastered at Woodland Studio in Lake Oswego, Oregon, highlights include "Very Light And Very Sweet" (which lives up to its name, and you can hear sax man Perry's transcribed solo below), opener "Splayed," "Stunts And Twists" (syncopated and surprising) and, my favorite, the closing "Stop Gap."
Mike Greenblatt – Classicalite.com