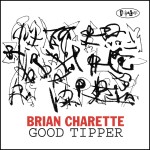 Brian Charette – Good Tipper (Positone)
Organist Brian Charette keeps the schedule of a shark, always on the move and making things happen. Any lapse in activity and he starts to get bored. The once-a-year release schedule of his old label Steeplechase couldn't keep pace with his output, a quandary that facilitated a switch to Brooklyn-based Positone that also increased his currency stateside.
Good Tipper follows a playbook similar to its predecessor mixing originals and covers with a lean toward the latter. An unintentional side effect is the feeling that Charette could probably play this stuff in his sleep, but that doesn't make the results any less groovy, particularly when his choice in covers casts such a wide net and succeeds in cementing an unruffled retro sound. There's no such thing as a guilty pleasure in Charette's song reservoir, just catchy melodies and rhythms to be expanded and retooled regardless of their source.
Guitarist Avi Rothbard and drummer Jordan Young complete Charette's classic B-3 schematic, each player steeped in the deep history of their chosen format. A third of the tracks swap out Rothbard and Young for guitarist Yotam Silberstein and drummer Mark Ferber, both of whom were Charette's partners on his Positone debut, but the personnel changes do nothing to disrupt the flow of the program. The gliding groove of the title track serves as concise palate cleanser before Charette takes down his first cover, The Zombies' "Time of the Season." The ensuing vibe is all mohair suits and Pall Mall menthols via Happy Hour at the Holiday Inn, but Ferber syncopates smoothly and Silberstein comps in the corners in such a way that the three successfully (and somewhat miraculously) circumvent any kitsch.
"Spring is Here" and "Cuando Cuando Cuando" cover the jazz standard and Latin bases respectively before a pair of originals, the first by Rothbard and the following by the leader. "Another Quarter" brings the funk with a heavy film of Hammond grease and the effect is The Meters as dosed on Diazepam. Charette channels his inner-Art Neville as Rothbard picks a luminous single-note solo against a pocket-clinging backbeat. "Standing Still" shakes off tonal opacity in favor of a straightforward groove and it's another stage-setter this time for the triple-punch of John Barry's "You Only Live Twice" with "Wichita Lineman" and "Up Up and Away" from the Jimmy Webb songbook. Charette has a ball with all three, bringing a soaring Baptist church vibe to the Bond theme that skirts the edges of operatic excess. The reinventions of the Webb tunes are similarly audacious, fusing an AM Radio populism to the honky-tonk anthems that once again keeps the kitsch in check.
The closing tracks of the program prove just engaging. Saxophonist Joe Sucato lends his velvet horn to the brisk Rothbard samba "One And Nine" as an eleventh hour guest and then disappears. Charette's relaxed-tempo ballad "To Live in Your Life", afloat in verdant swells, shimmering guitar chords and pattering brushes contrasts with a rapid, but uncluttered rendition of Joe Henderson's "The Kicker." Considered in sum the album is an effort worthy of a listener gratuity greater than the standard 15 percent.
Derek Taylor