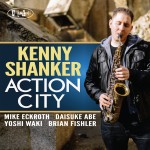 Kenny Shanker's Action City is ridiculously good!
Shanker's sophomore release on the acclaimed Posi-Tone label shows an exponential growth for an artist whose musical stock should be an arrow pointing straight up! This quintet can swing like a beast and given the fact that Action City boasts all original compositions, Kenny Shanker is indeed a rising star!
The band is A list and his regular rhythm section to boot so the chemistry leaps from your speakers. A gifted and intense lyrical surgeon, Kenny Shanker's tone has grown yet never overshadows this amazing collective. Pianist Mike Eckroth, bassist Yoshi Waki and drummer Brian Fishler are all working from the same page of the Shanker harmonic playbook. An old fashioned straight ahead blowing sessions with contemporary compositions, it doesn't get much better than this. While the percussive and more Latin influenced "Summer Siesta" smolders, the gorgeous ballad "Another Morning" may just be the hidden gem of the release. 
Action City has surprises for everyone and is easily one of the best for 2014.