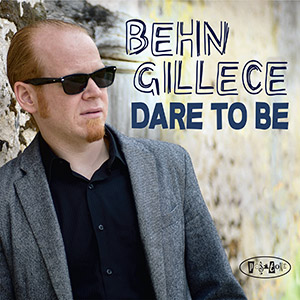 There should be a law that compels every vibraphonist on the jazz scene to record one album per year with a guitarist.  Of the pool of possible combinations, the marriage of those two instruments is one of the happier pairings there is, and this holds true whether the form of expression is one that stretches out to the fringes of jazz or if the music plants itself dead center in jazz territory.  The newest from vibraphonist Behn Gillece falls in the latter category, and his Dare to Be match-up with guitarist Nate Radley is yet further evidence that a law is not an unreasonable demand.
The up-tempo "Signals" moves at a frenetic pace, with drummer Jason Tiemann and bassist Ugonna Okegwo providing all the rocket fuel they can get their hands on, but nothing about that stops Gillece from a patient lyricism to accompany Radley's speedy guitar lines.  And when trumpeter Bruce Harris charges down the center of "Drought's End," Radley and Gillece exhibit their combo's dexterity by circling around and meeting at the other side of the solo.
But the album's best personality shows on the less conventional tracks.  A rendition of Bobby Hutcherson's "Same Shame" has an alluring melodicism to go with a nervous tempo, and both vibes and guitar take advantage of the resulting conflict of emotional tones.  Opening track "Camera Eyes" opens dreamily, and very much suits the tranquil sighs from both vibes and guitar.  The chipper "Live It" pushes all-in on the sunshine with a catchy melody and a tuneful attitude.
Aside from the slow blues of "Amethyst" and a cover of Johnny Mandel's "A Time for Love," this is an album consisting primarily of burners.  And considering how up-tempo tunes bring out the best from vibes and guitar in their (potential) dual role as melodic voice and rhythmic support, it's not an unwise strategic decision to adopt.  Similarly, scooping this nifty recording up also falls under the category of "wise decisions."
Dave Sumner – Bird is the Worm