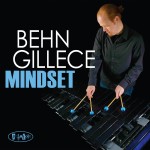 by Anthony Smith
I first heard vibraphonist Behn Gillece play when I discovered one of his collaborations with Ken Fowser, while perusing i-Tunes several years ago. Always on the lookout for an exciting new vibraphone discovery, I immediately bought that album, and proceeded to follow Behn's career from then on. When I moved to New York in early 2014, I walked into Small's in the Village, and quickly spotted a red-headed guy standing near the bar, dressed in black, hair pulled back in a neat ponytail. "Hey," I said before thinking, "You're Behn Gillece." He looked at me, smiled and said "Yes, I am." Thus began a friendship with one of New York City's brightest young jazz musicians, as well as one of the finest vibraphonists of his generation.
Gillece's latest release, Mindset, is yet another example of his musical gifts as both a first-rate soloist and also a composer of note. Firmly rooted in the rich tradition of post-bop, with an inviting mixture of hard-swinging and straight-eighth/Latin grooves, along with the tasty ballad here and there, Mindset announces Gillece's arrival as an artist who has attained both maturity and a distinctive musical voice. Perhaps more so than any other vibraphonist, Gillece combines two very different schools of vibraphone playing: the virtuosic, chromatic approach of Bobby Hutcherson, and the no-vibrato, four-mallet chordal aesthetic of Gary Burton. Stylistically Gillece is more aligned with Hutcherson, favoring deftly executed single-note lines in his improvisations, but technically speaking, his impeccable execution, clear, dry tone, and balanced tone is more reminiscent of Burton and his disciples.
The album's first track, The Great Quarterly, contains an angular melody reminiscent of hard post-boppers like Joe Henderson and Woody Shaw. Out of the gate, Gillece demonstrates his clean mastery of the vibes. His lines are rhythmically precise, his time is impeccable, and his melodic voice is fresh. The title track, Mindset, is a driving, straight-eighth groove, with some unexpected twists and turns. The strong melody is enhanced by Gillece's signature pentatonic flourishes, followed by a well-crafted, dynamically varied vibes solo.
Gillece calls upon pianist Rick Germanson to provide solid accompaniment, along with understated, tasteful solos. The rhythm section of Paul Gill and Charles Ruggiero is so smooth, so supportive, that's it's at times possible to forget they're even there. Saxophonist Ken Fower, Gillece's longtime musical partner and label mate on Posi-Tone Records, sounds excellent as usual, delivering well-constructed improvisations with a straight, honest tone in the tradition of Dexter Gordon, Sonny Rollins and John Coltrane.
The track Uma Para Agosto begins with a solo vibraphone intro, showcasing Gillece's ability to play convincingly with four mallets. In addition to his work in the post-bop genre, Gillece has also worked extensively in Latin and Brazilian contexts, and this is made obvious by his smooth, melodic work here. Germanson switches to Fender Rhodes for a nice change of pace.
The session ends with Calm, Cool, and Collected, a bright, optimistic swinger with major chords and a straight-ahead groove, which is reminiscent of another recently recorded vibes track, Pharaoh Joy, from the Joe Locke/David Hazeltine album, Mutual Admiration Society 2. Behn Gillece's new album demonstrates his abilities as a bandleader and composer, but in the end, what comes across the most is his complete command of jazz vibraphone, and an original voice on the instrument that is sure to continue developing in years to come.