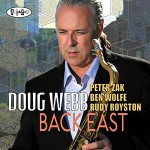 Doug Webb – Back East (Positone)
A germane quote from Herman Hesse graces the tray card of Back East, tenorist Doug Webb's fourth album for the Positone imprint. The words codify the compass point not just as something concrete, but also as an intangible concept better suited to the province of the mind. Tenorist Doug Webb is steeped in the East Coast jazz vernacular of his instrument from Coltrane on down. That abiding and encyclopedic knowledge informs the date while also raising some provoking questions about the tenacity of tradition and how best to reconcile it with continued efforts at fresh artistic expression.
Webb's crackerjack rhythm section is right in tune with his no-nonsense designs. Pianist Peter Zak practices a less-is-more economy, switching from sparse, but supportive, comping to porous, but brief, solos that rarely fail in cutting to the melodic quick. Bassist Ben Wolfe and drummer Rudy Royston lock regularly on a breathing groove, the former extracting elastic snaps on his down strokes while the latter stokes the beat with smoothly synched cymbal and snare activity and choicely situated fills. With these foundational bases covered Webb is free to fire off ripe tenor salvos at will as on the effusive title opener, an up-tempo sprint that gets the job done beautifully in three-minutes and change.
Next, the band downshifts to an ambrosial ballad "Sally's Song" and it's here where the album's arguable predictability begins to take purchase. Webb's waltzing improvisation dances across Zak's gilded chords while Wolfe and Royston add embellishments from their respective stereo channels. Mid-tempo and lightly bluesy, "Spiral" shifts the mood again in expected fashion leading into "RDW Esq." (a Webb relation?) which practically proclaims an Atlantic-era Coltrane influence in the leader's burnished phrasing. Familiar features ensue, a Jobim tune, one from Mancini and tribute to another tenor titan answering to the surname Turrentine in "Stanley". Mileage will vary as to what degree these familiar signposts and ingredients erode the album's singularity, but the superlative playing by all four musicians largely resists and subverts comparable reproach.
Derek Taylor