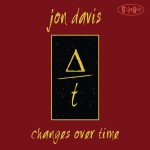 Jon Davis plays with a richness of soul, exhibiting a well versed jazz character that can go from Jaco (whom he worked with for several years), New Orleans swamp, and freedom jazz dance, to Stevie Wonder, and back. Although he doesn't try to sound like Bill Evans, he did pen a tune called Waltz for U, named for the trio's bassist Ugonna Okegwo who was perhaps tiring of the challenges of playing in so many of Davis' multiple time signatures and took to this groove right away. Evans named his "Waltz for Debby" after his niece. Davis named his after one of the most beloved upright bassists on the scene, having worked with jazz greats too numerous to mention. (I wonder if "Waltz for Scott" was even in the running?)
Okegwo does provide that second leg necessary in any great jazz trio. His sound is rich and earthy, and well suited to Davis. Jochen Rueckert rounds off the group on drums, providing a complement to Davis' genius- level musings on piano. Rueckert is a character who can go from a Jerry Granelli sounding trio drummer, to the authorship of the long running "Read the Rueckert," to a music programming alias named Wolff Parkinson White.
Davis was able to add a fresh spin to the standard, "Soul Eyes" that opens the set. I don't recall any other version of this song with a 7/4 swamp vibe, but that's how we start the album, which fittingly "resolves" to a sharp 4 over 5 sound. And that's all just to whet our appetite for how Davis can apply his incredible jazz vocabulary across a spectrum of sounds.
For example "Just For Fun" started off as "Confirmation" but ended up in the relative minor, with "a cool descending chromatic harmony for the A sections." It became a favorite oft-requested song of his band, who are just guys who like to have fun, right? 
"Las Olas" speaks to the richness of Davis' knowledge and experience in jazz, since it exquisitely pays tribute to the great Jaco Pastorius, his former band mate. According to Davis "This is one of the lesser known Jaco Pastorius masterpieces. I think he was probably thinking a little bit of the Herbie Hancock tune with a similar feel, "Speak Like A Child," which Jaco recorded on his debut record. This is another one named for a location in Jaco's home state of Florida."
Other highlights include "Klutz," that starts off with an angled piano intro, mixes in hints of Monk, and explores disjunct elements between two piano hands. "Jazz Vampire" came after listening to modern classical and 12 tone music, and takes some giant steps towards a new type of composition. Or perhaps due to his frequent late night gigging, it speaks to caffeine abuse, but I'm speculating.
There's much more to discuss, such as a Stevie Wonder "reharm," something that's "swampy-light funky" called "The Peacocks" and even a tune for Posi-tone producer Marc Free.
Track Listing: Soul Eyes; Just For Fun; Las Olas; Changes Over Time; Yesterday; Klutz; Jazz Vampire; The Peacocks; It's For Free; My Cherie Amour; Slowly But Surely; Waltz For U.
Personnel: Jon Davis: piano; Ugonna Okegwo: bass; Jochen Rueckert: drums.