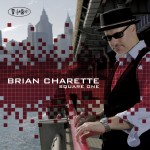 www.allaboutjazz.com/
Classically trained pianist turned organist Brian Charette is an accomplished master of the Hammond B3 with an elegant yet passionate touch. His signature style imbues the many recordings of his various ensembles with a light, crisp sound and an effervescent melodicism that is, unapologetically, mainstream without being pedestrian. In 2014 Charette cut two charmingly seductive albums that delight and gratify without experimenting with innovation or breaking any radically new ground. 
On his second release of the year Square One on the Los Angeles based Posi-Tone label Charette showcases his virtuosity on his instrument in a sparse, and more traditional, setting accompanied only with guitar and drums. Charette leads his sidemen through nine of his compositions and one each by tenor saxophonistJoe Henderson and vocalist/keyboardist Art Neville.
The Henderson piece, made famous by organist Larry Young on his landmark Unity (Blue Note, 1966), is a showcase for drummer Mark Ferber's unfettered, stormy and exhilarating flights of fancy. Charette and guitarist Yotam Silberstein take turns dueting with Ferber and egging him on further.
Silberstein brings his loose, laidback yet simmering strings to center stage on the most eclectic of the CD, the psychedelic "People on Trains." The intricately constructed motifs give way to Charette's circular and otherworldly reverberations and his intelligent, impressionistic bars.
The trio builds a vivid shimmering ambience on the fusion-esque "Things You Don't Mean." Charette's thick, expressive harmonies underlie Silberstein's blistering, electrifying swells as the two take turns elegantly embellishing the melody.
Charette brings a churchy feel to the elegiac "Ten Bars for Eddie Harris." This hard driving, viscerally moving and tender original accentuates Silberstein's haunting guitar work and Charette's own edgy but reserved extemporization. Ferber's rumbling drums, over Charette's gospel like chanting keys close the tune on an exalted mood.
Charette's romantic side is on display on "Three for Martina," a sweet (but not syrupy) paean to his girlfriend. His suave, sleek spontaneous expression flows with iridescence hues and contrast with Silberstein's equally heartwarming yet denser strums.
The Question That Drives Us and Square One are intellectually attractive and aurally pleasant musical works. Charette maintains the compelling momentum, on both from start to finish. With his superlative musicianship and leadership skills he assures a uniformly high artistic quality on both disc even in the absence of anything ingeniously cutting edge or trailblazing.