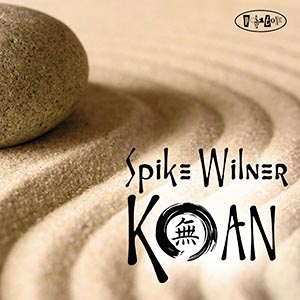 I have an idea that pianist Spike Wilner has read Kenny Werner's book Effortless Mastery: Liberating The Master Musician Within (1996), because Koan emulates Werner's lessons in surrendering one's self to music. Werner's teachings on enlightenment flow through this trio recording, Wilner's sixth as a leader.
As a disciple of Harlem stride and ragtime, Wilner, like so many modern pianists from Thelonious Monk to McCoy Tyner, has the ability to open his own book at any page in the history of jazz. With his capable trio of bassist Tyler Mitchell and drummer Anthony Pinciotti, he delivers a dozen crisp and elegant compositions, half of which are his own.
The disc opens with the locomotive "Iceberg Slim," the motility provided by his left hand and the swing his right. His flawless approach on the traditional Tadd Dameron bebop anthem "Hot House" is that of an imagined Bud Powell playing impeccable notes in heaven. When a pianist has the talents Wilner possesses, a piece like the title track is a showcase for either flamboyance or taste. With Wilner it is the latter; his jazz manners are that of John Lewis or ((Bebo Valdes}}. The best example might be Noel Coward's "I'll See You Again," played with an elegance you'd be surprised to hear over the clamor and din of a jazz club. His diamond-in-the-rough playing is evident on the two Duke Ellington pieces here, "Warm Valley" and "Gypsy Without A Song."
He also plays "Young At Heart" without a hint of irony, and his composition "Trick Baby" rings order out of classical dissonance. Even his "Blues For The Common Man" flirts with a an elegant grandeur, the same grace that Dave Brubeck possessed.
Without auto-correct to save me, my poor typing skills kept spelling out 'Loan" instead of Koan. Maybe it was an error, or perhaps my zen nature was telling me Wilner has taken a loan from the piano gods.
Mark Corroto – All About Jazz