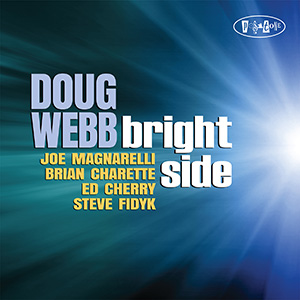 From one perspective, Doug Webb's Bright Side is basically twelve tracks clothed in very recognizable forms —a few varieties of soul-jazz, a couple of heartfelt ballads, a taut bossa nova, and an array of middling and up tempo straight- ahead swingers. Although the material is thoroughly enjoyable, it's tempting to succumb to a nagging notion that its all been done countless times before, and then simply move on to a record by yet another brave soul planting his/her flag in the jazz tradition. Fortunately, what enables Bright Side to add up to something more than a competent, professionally executed jazz record, is a slew of highlights, bright moments, and outright cool stuff that populates every track.
A quintet consisting of Webb's tenor sax, trumpeter Joe Magnarelli, guitarist Ed Cherry, organist Brian Charette, and drummer Steve Fidyk (all of whom have led dates for the Posi-Tone Records label) operates like a well-oiled machine. Listening to how nicely all of the parts fit together, and the fact that you can easily discern each player's contribution, are important facets of the disc's appeal. For instance, Cherry's work on the heads and his comping behind individual soloists are delivered in subtle yet decisive ways that add rich, distinctive flavors—while taking up a minimum amount of space. The same can be said about Charette, whose primary concern is holding down the band's bottom, but, with due cause, asserts himself by means of vivid chords. Fully capable of inhabiting any role the music requires, Fidyk often jolts the band with thickset snare accents, frequently plays fluid, inconspicuous jazz time, and always executes smart, stimulating fills regardless of the type of groove.
Webb's voice as an improviser possesses real character regardless of the kind of song he's playing. Check out the R & B influenced "Society Al" for the way in which he gets down by himself at the onset of the track, pausing and briefly falling silent amidst a fair amount honking and shouting. Later on during his solo over the band's uncluttered funk, Webb executes notey runs, brief, tantalizing hesitations, quick, meaningful digressions, as well as broad, weighty tones—and makes all of them sound like they belong in close proximity to one another. Magnarelli's solos—particularly on "Steak Sauce," "Slo Mo," and "Lunar"— contain a fair measure of brassy power mixed with a kind of subdued, floating quality that feels emotionally vulnerable. Cherry possesses a unique, understated style, doling out notes with a soulful circumspection. His all-too-brief intro to "One For Hank" is the epitome of sparse perfection, so simple that it's easy to take it for granted. The guitarist's gift for making improvised lines sound both ephemeral and sturdy is also apparent throughout the gentle "Bahia," where every single note and chord breathes easy and carries an almost imperceptible weight.
In the end, Webb and company make it simple to enjoy the music instead of indulging in critical hair splitting or fretting about stylistic proclivities and influences.
David A. Orthmann – All About Jazz