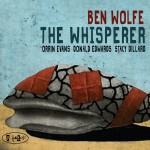 You can always gauge a bassist-led recording by the players he attracts on the bandstand or in the studio. Proof of this premise is
Ben Wolfe
's latest, 
The Whisperer
. Just like 
Charles Mingus
 had his 
Jaki Byard
, 
Booker Ervin
, and Dannie Richmond, and
Dave Holland
 his 
Craig Taborn
, 
Kevin Eubanks
, and 
Eric Harland
, Wolfe is also a magnet for talent. His past recordings featured
Ned Goold
 and 
Joe Magnarelli
 on 
Murray's Cadillac
 (Amosaya Music, 2000), 
Branford Marsalis
 and 
Terell Stafford
 on 
No Strangers Here
 (MaxJazz, 2008). His previous release 
From Here I See
 (MaxJazz, 2013) featured pianist 
Orrin Evans
, drummer 
Donald Edwards
 and saxophonist 
JD Allen
. With the exception of 
Stacy Dillard
 replacing Allan, the same lineup returns here. Each of Wolfe's sidemen are distinguished band leaders themselves, and each has released noteworthy music recently.
Wolfe's quartet shines navigating the twelve tracks here, which include eleven original compositions by the bassist, and Jerome Kern's now-jazz standard "All The Things You Are." Wolfe favors ballads, and Dillard's saxophone abides throughout. He delivers the most gentle touch on "Hat In Hand" with a luscious soprano take that is echoed by Orrin Evan's piano. "Love Is Near" conveys a sensual message via Dillard's tenor, the wee small hours brushwork of Edwards, and a reserved piano and bass. If their approach was less than honest, the melancholy mood of "If Only" wouldn't work. Clearly it does. Wolfe is a patient storyteller.
When the band does turn up the burners on tracks like "Chronos," a complex funky swinger and the devilishly hip title track, the cohesion of the quartet is evident. Same for "S.T.F.U." where trumpeter Josh Evans joins the quartet. Their controlled zeal conjures a vision of the players in Brooks Brothers suits, ties now appropriately undone.
Track Listing: Heroist; Hat In Hand; Community; Love Is Near; S.T.F.U.; Camelot's Lean; Chronos; All The Things You Are; The Whisperer; Becoming Brothers; The Balcony; If Only.
Personnel: Ben Wolfe: bass; Orrin Evans: piano; Donald Edwards; drums; Stacy Dillard: soprano saxophone, tenor saxophone; Josh Evans: trumpet (trk 5).
— Mark Corroto