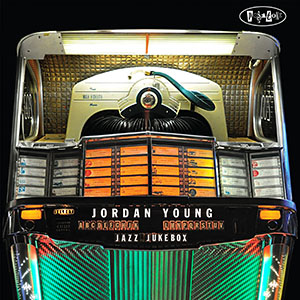 The predominance of the jukebox in social situations is essentially a thing of the past. But how much has really changed? Those once-ubiquitous machines that brought musical happiness to the good people in corner bars and diners throughout the land may have vanished, but the concept they put forward has not. It's simply been modernized, with shuffling playlists, random streaming, curated listening parties, and smartly programmed albums like this now carrying the jukebox flame and furthering the mix-it-up musical formula.
Jazz Jukebox is exactly what you'd expect, both based on the title and what drummer Jordan Young cooked up on his first two albums—Jordan Young Group (Self Produced, 2010) and Cymbal Melodies (Posi-Tone, 2012). It's a diverse program built on sharp and concise arrangements of jazz and pop nuggets. Everything from Thelonious Monk's "Rhythm-A-Ning" to Jim Croce's "Time In A Bottle" and Hugh Masekela's "Son Of Ice Bag" to Charles Ira Fox's campy "Love Boat" makes it into the mix, and nothing overstays its welcome. The longest tracks don't even crack the four-and-a-half minute mark.
Young keeps things moving here, largely focusing on upbeat material pulled from different corners of the music world. He nods to Larry Young with a performance of the organist's jaunty "Paris Eyes," gets his sloshy hi-hat going for a spell on The Beatles' "I'm Only Sleeping," prods organist Brian Charette and guitarist Matt Chertkoff during their solos on Wayne Shorter's "ESP," and trades with glee on "Tadd's Delight." If that's not enough variety, there's also Charette's "Giant Deconstruction," an odd-metered, ascending twist on John Coltrane's "Giant Steps"; Jimmy Smith's soulful and bluesy "Eight Counts For Rita," one of four numbers to bring tenor saxophonist Nick Hempton into play; and Chertkoff's arrangement of "Will You Still Be Mine," a caffeinated brush feature for the leader.
In choosing to work with Charette and Chertkoff, Young capitalizes on musical relationships that have been fostered over a long stretch of time—basically week in, week out at Tribeca's Authentic Bar B Flat and other New York haunts. Due to those bandstand-forged connections, this crew is incredibly comfortable in its own skin. That's something that tends to cut both ways. On the positive side, it makes for a strong team mindset in the music. All the stops, turns, and hits are incredibly tight. The group chemistry also fuels solid groove expressions—swinging, samba-esque, and soulful at different turns—which carry the music forward. The downside with the musical amity between these men is that it sometimes leaves the music wanting for more heat and/or friction. The band occasionally feels too comfortable. But is that really a problem? For most listeners, probably not. Those who dig the idea of sundry selections served up by a bright and polished trio fronted by an articulate drummer will be happy as can be when spinning Jordan Young's Jazz Jukebox.
Dan Bilawsky – All About Jazz