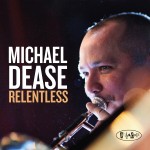 Sometimes a cover song reveals a lot of the genius of the musician covering it. Michael Dease's big band rendition of the Brecker Brothers' "Roppongi" surely does that, but it also speaks loudly about the underappreciated ingenuity of the song's composer, Randy Brecker.
The closing track from The Return of the Brecker Brothers (1990), it's chock full of the dense Brecker Brothers' funk and overflowing with chops from Randy and his tenor sax legend brother, Michael. It's three or four discreet sections of different tempos and styles pasted together but somehow the song remain very coherent. Someone listening to the oroginal recording today might get a bit put off by the synth-laden late 80s production values that went along with all this inspired composing, arranging and performing, but not Dease.
Dease is well familiar with Randy Brecker and his music, having already covered his solo song "I Talk To The Trees" for 2010′s Grace and he goes to Brecker's pen again with "Roppongi" for Dease's first big band record, Relentless. The veteran of the Dizzy Gillespie Big Band, the Charles Tolliver Big Band and Christian McBride's big band know his stuff when it comes to jazz orchestration and it shows with his own jazz orchestra. What Dease saw in "Roppongi" was a hard swinging, big-band tune masquerading as a contemporary modern fusion-jazz song.
The arrangement that Dease uses doesn't stray from the basic structure or vision of the song, but simply putting it into the hands of a big band featuring young luminaries like Sharel Cassity, Tim Green, Etienne Charles and Linda Oh places it in a natural environment. Dease's crew pilots it through funk, Cuban salsa, swing and even rock phases (thanks to Andrew Swift's electric guitar). The highlight is the extensive trading of fours between Dease's boss trombone and the lively trumpet of Alex Norris.
Truth is, Michael Dease adds freshness and imagination to the tried-and-true big band format all over Relentless across songs both original and standard. His big band's take on "Roppongi" breathes new life into a little-noticed Randy Brecker gem, too.
Relentless, Michael Dease's first for Posi-Tone Records, goes on sale July 8, 2014. It's well worth checking out.